Three years ago I started this crazy Pinterest journey. It's so hard to believe it was that long ago. The little man was just shy of a year and a half old and our munchkin wasn't even in the picture yet. When did time start flying by so fast? Back in those days, command centers weren't even on my radar. Now that the little man is in preschool and we have so much more stuff to keep track of, I knew it was time to design one.
I started my command center planning by reading some great tips from Uncommon Designs. She suggested tracking all of the "stuff" that ends up around the house during the week. That's the stuff that you want to make room for in your command center. I began to see that I had two different needs. I needed space for jackets, bags, shoes, and such as we entered the house. Jackets were being hung on chairs and there were shoes everywhere. It was slowly driving me insane.
I also had a mail, coupon, receipts, and general paperwork problem. I had a small paper holder on my kitchen counter, but I hate having stuff like that out. It needed a home.
I couldn't really figure out how to make both of these function well in the same place, so I decided to design to separate areas. Is it really a command center if you have two of them? Oh well.
In this post, I'll just focus on the first part of our command center – the drop zone. This would be our new spot for coats, bags, shoes, etc. We don't really use our front door, so our main entry is through our garage. That makes the playroom the first room we enter. This is why jackets weren't making it to the hall closet by our front door. It's on the other side of the house, so it wasn't functioning for us.
I scoured Pinterest for design ideas and inspiration. There were a few that stuck out to me and I slowly built my own design.
I absolutely loved this design from The Homes I Have Made. The colors, the bins, the organization…I loved it all! I knew I needed a bench in my command center too though. A place to hold shoes was a must, but this was a great place to start.
Slowly but surely, my design came together.
I started by finding the bench and storage hooks that I wanted. I learned that the top shelf I had seen in many command center posts came from Amazon, so I started there. Amazon so kindly informed me that the matching bench was also available. Perfect!
Since the shelves didn't come with bins, I started searching for those. I actually wanted to bring in some color with the bins, but I just couldn't find anything that I liked, so brown it was.
Then I had to decide what was going on the top shelf. I knew I wanted a menu board and a place for a verse of the week, so I started there. I created some simple designs on Canva and found these cute frames at AC Moore. I got the B there too. I thought that would be a fun addition.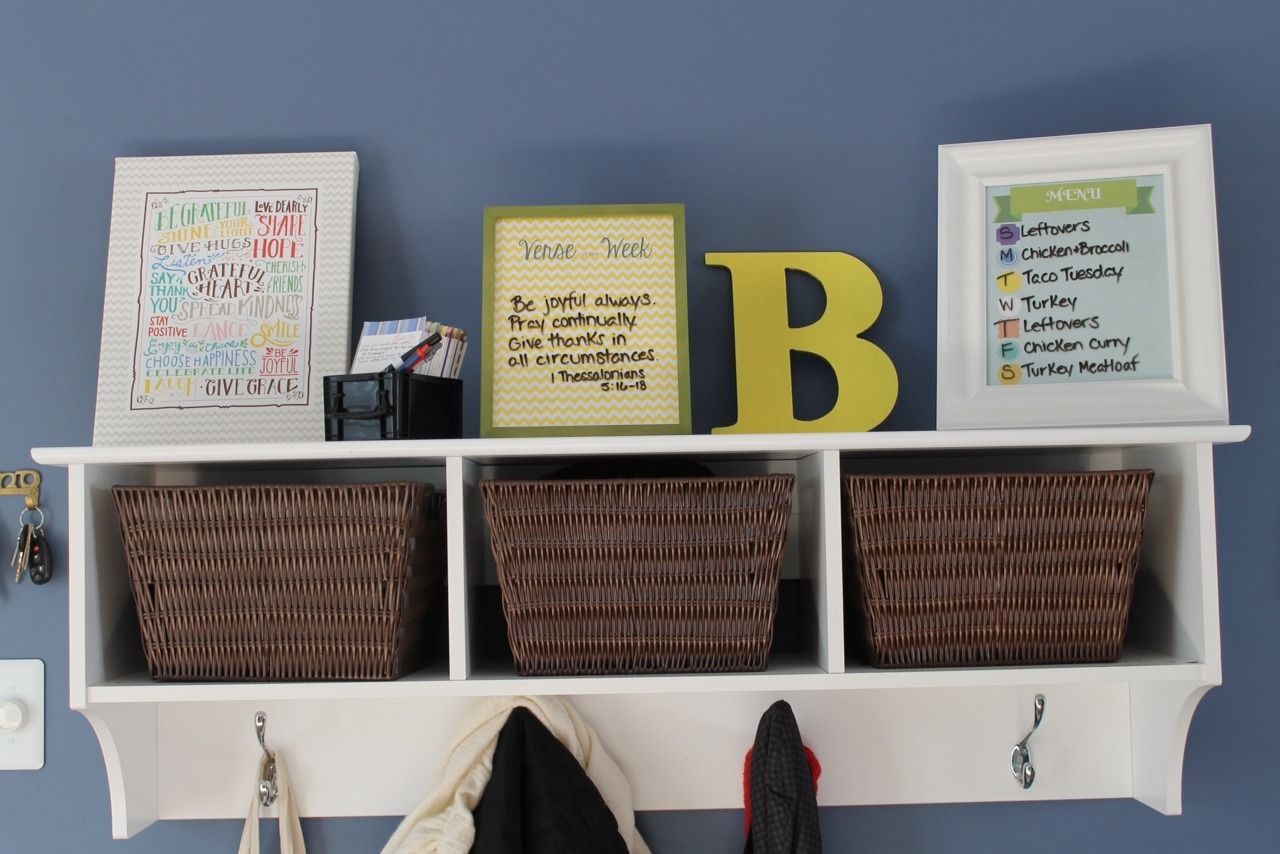 Then I found this great print on Zulilly. It's actually designed by the lovely Trista Sutter. I didn't even realize it until after I ordered it, but it kind of made me love it even more. She and Ryan are so stinkin cute. And of course, I couldn't leave out my perpetual calendar!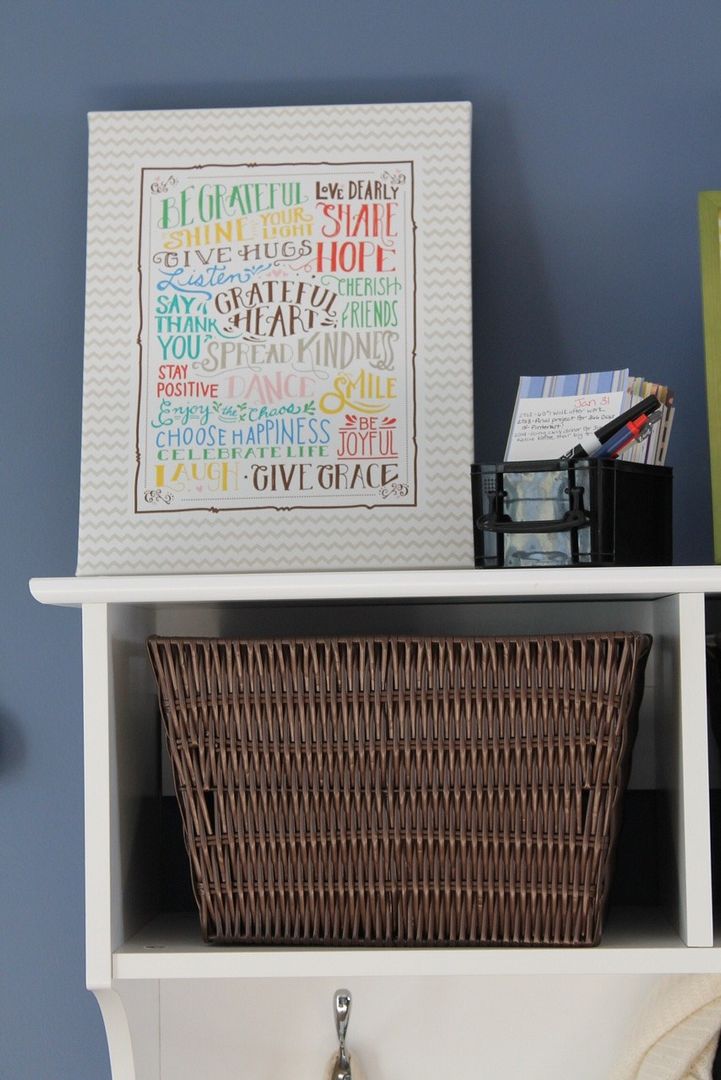 And there you have it! Command center #1 is complete! Now if only we could work on swapping out the coats and winter hats for towels and sunscreen.
Related posts: