I have quite the Crock Pot meal for you today. It's about as easy as it gets and it's incredibly healthy and delicious. Does it get much better than that? Thanks to this pin, I discovered a wonderful blog, Paleo Pot. Even if you don't eat Paleo, it's full of healthy recipes that don't use processed ingredients. Too many Crock Pot recipes are full of junk ingredients. I'm so glad I found this blog!
As for this tasty dish, it's become one of my favorite Crock Pot recipes. If you haven't had spaghetti squash yet, you are seriously missing out. It is the perfect substitute for real spaghetti. I know, some of you are thinking that I'm totally crazy. How can a vegetable taste just like spaghetti? Well, it doesn't. It tastes better!
Before I discovered this pin, I used to bake my spaghetti squash in the oven like I do with other squash. Who knew you could actually cook it in the Crock Pot along with your meatballs for a one-pot meal?! It blew my mind.
Make sure you have a 6 quart Crock Pot for this recipe though. You are going to need all the room you can get in there.
Ingredients:
One medium spaghetti squash (don't go too large or it won't fit)
One pound of ground Italian sausage (I used poultry sausage from Wegman's)
One can of tomato sauce (use jarred or homemade)
4 to 6 cloves of garlic, whole
2 tbsp of olive oil
Italian seasoning to taste (if it's not already in your sauce)
Directions:
Dump your tomato sauce, olive oil, garlic, and Italian seasoning into your Crock Pot and stir well.
Cut your squash in half and scoop out the seeds.
Place your 2 squash halves face down into your Crock Pot.
Roll your ground sausage into meatballs, then fit as many as you can in the sauce around the squash. I was able to use three of the four patties in there, but it was tight!
Cook on high for 3 hours or on low for 5 hours.
Use a large fork to pull the "spaghetti" out of your squash, then top with your meatballs and sauce.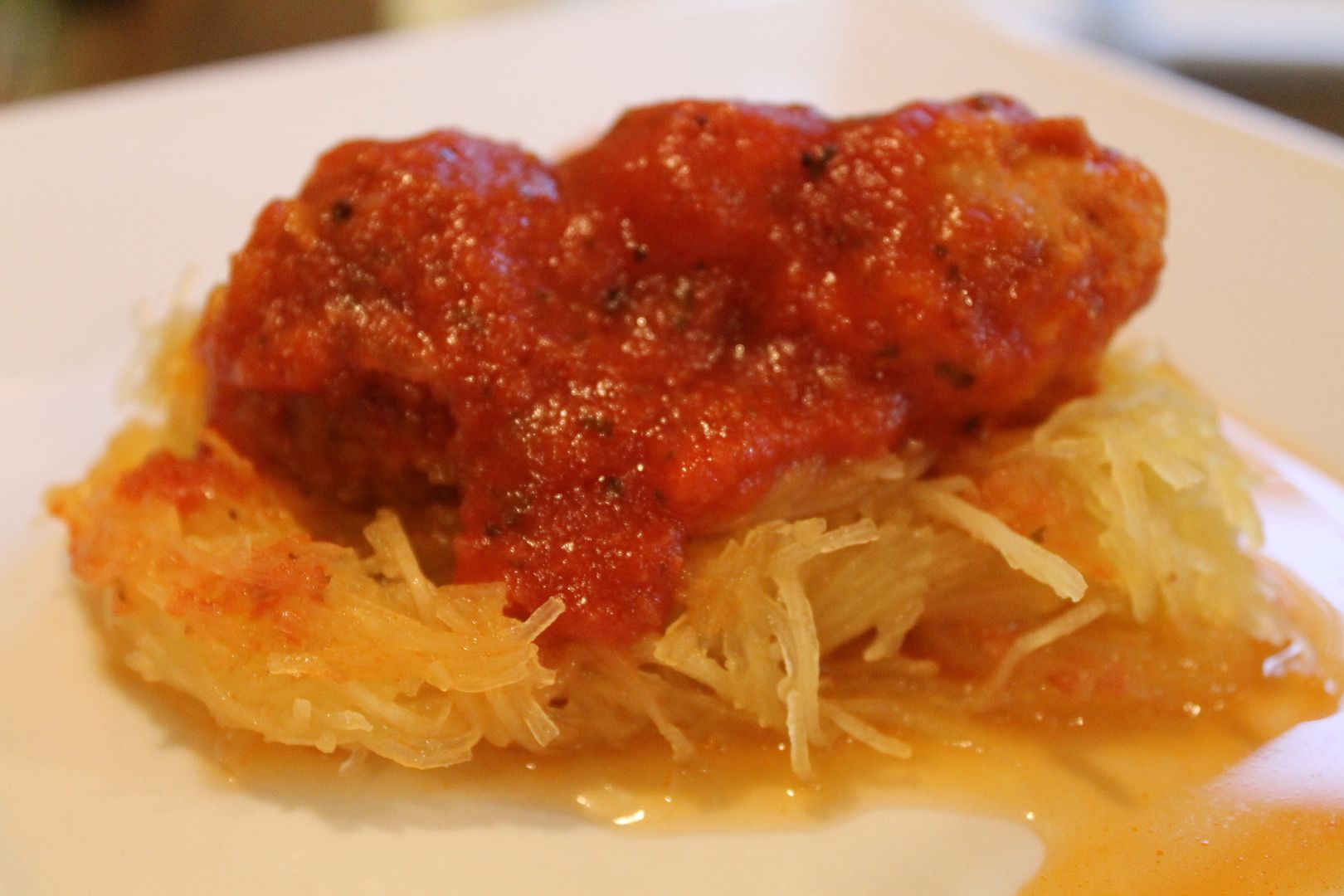 Spaghetti and meatballs has never been so easy! Seriously, this is the only way I make spaghetti squash and meatballs now. The Crock Pot never ceases to amaze me.
Source:
Paleo Pot
Related posts: