I've never been a huge fan of lasagna. Now that I don't eat pasta, I didn't anticipate ever having it again. Then, I saw this tasty dish. I'm a big fan of zucchini, so that's really the only reason I gave it a shot.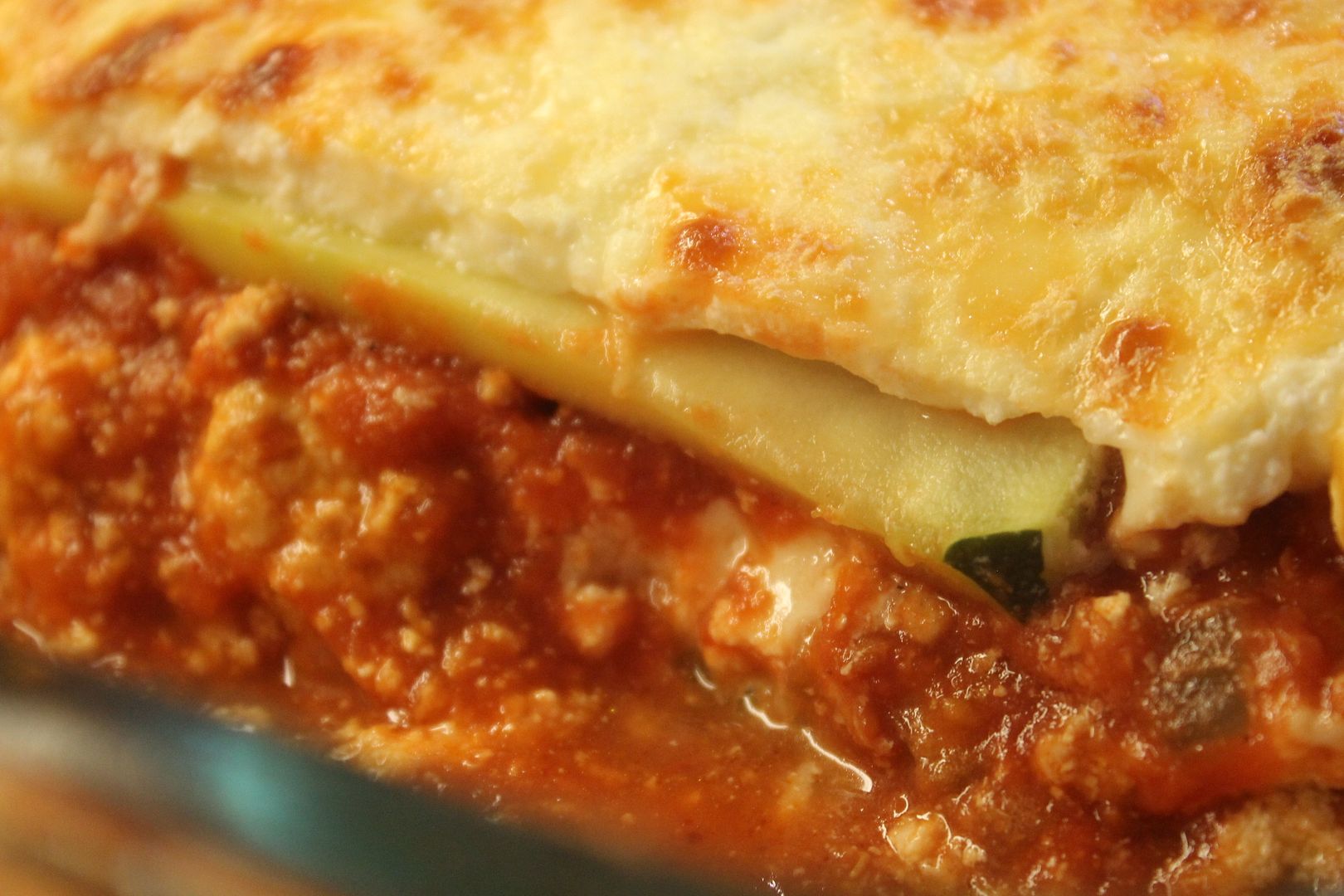 Ingredients:
– 1 lb ground turkey
– 3 cloves garlic
– 1/2 onion
– 1 tsp olive oil
– salt and pepper
– 28 oz can crushed tomatoes
– 2 tbsp chopped fresh basil
– 3 medium zucchini, sliced 1/8″ thick
– 15 oz part-skim ricotta
– 16 oz part-skin mozzarella cheese, shredded
– 1/4 cup Parmigiano Romano
– 1 large egg
Directions:
1. In a medium sauce pan, brown meat and season with salt. Remove mean from the pan. Add olive oil to the pan and saute garlic and onions about 2 minutes. Return the meat to the pan, add tomatoes, basil, salt and pepper. Simmer on low for at least 30-40minutes, covered.
2. Slice zucchini into 1/8″ thick slices, lightly salt and set aside or 10 minutes. Zucchini has a lot of water when cooked, salting it takes out a lot of moisture. After 10 minutes, blot excess moisture with a paper towel.
3. Preheat oven to 375°.
4. In a medium bowl mix ricotta cheese, parmesan cheese and egg. Stir well.
5. In a 9×12 casserole spread some sauce on the bottom and layer the zucchini to cover. Then place some of the ricotta cheese mixture, then top with the mozzarella cheese and repeat the process until all your ingredients are used up. Top with sauce and mozzarella and cover with foil.
6. Bake 45 minutes covered at 375°, then uncovered 15 minutes. Let stand about 5 – 10 minutes before serving.
This is so incredibly good! I'm not even kidding. I could easily eat half the dish myself. My mom made a vegetarian version of this using quinoa instead of ground turkey, and it was also amazing! I know we are just at the end of zucchini season, but if you can still get your hands on some, I highly recommend this recipe. I just snagged a few more during my last shopping trip so I could make it one more time. Mmm mmm mmm!
Adapted from: Skinnytaste
Related posts: