I had a major sweet tooth during both of my pregnancies. This time around, it seems to be hanging around a lot longer. I am still craving sweet treats like crazy. These cookies looked amazing and they didn't have flour in them, so I knew my husband would appreciate that.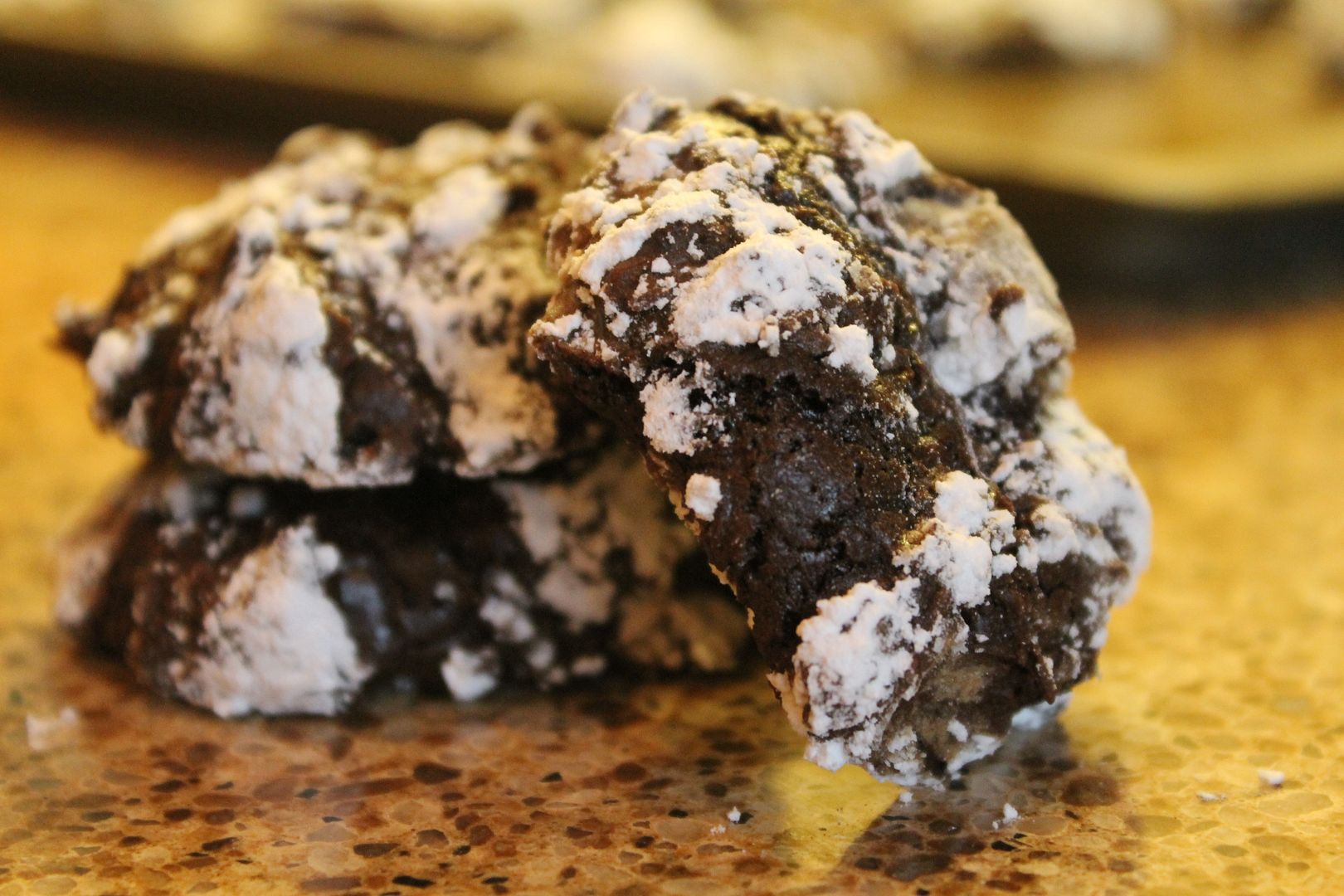 Ingredients:
1 1/2 cups bittersweet chocolate chips (about 9 ounces)
3 large egg whites, room temperature
2 cups powdered sugar, divided (plus 1/2 cup for cookie coating)
1/2 cup unsweetened cocoa powder
1 tablespoon cornstarch
1/4 teaspoon salt

Directions:
1. Preheat oven to 350°F. Spray 2 large baking sheets with nonstick spray.
2. Melt 1 cup chocolate chips in glass bowl in microwave, mixing every 30 seconds until melted.
3. Using electric mixer, beat whites in large bowl to soft peaks. Gradually beat in 1 cup powdered sugar. Continue beating until mixture resembles soft marshmallow cream.
3. Whisk 1 cup powdered sugar, cocoa, cornstarch, and salt in medium bowl to blend. On low speed, add dry ingredients into meringue mixture.
4. Mix lukewarm chocolate mixture and 1/2 cup chocolate chips. The dough will become very stiff.5. Place 1/2 cup powdered sugar in bowl. Roll 1 rounded tablespoon dough into ball; roll in sugar, coating thickly. Place on prepared sheet. Repeat with remaining dough, spacing 2 inches apart.
6. Bake until puffed and tops crack, about 10 minutes. Cool on sheets 10 minutes. Transfer to rack, cool.
These certainly satisfied my sweet tooth! They are light, gooey, and a little crunchy too. Mmmm mmm mmm! They were really easy to make too up until I had to roll them into balls. The dough is super sticky, so that step was a little tricky. I think I'll coat my fingers in butter next time I attempt these, which will probably be soon!
Source:
Picklee
Related posts: