With our next little one due in less than two weeks, I've been trying to make sure we are as prepared as possible. We are blessed with amazing family and friends, so I know we will have meals prepared for us for a while after the baby arrives. It's always so depressing when those meals run out though and you actually have to cook again. I decided to stock my freezer this time around so that I could get some extra time away from the kitchen.
I searched through the various freezer recipes that I have pinned and put together my own combination of meals to try. Since I don't eat red meat, I had to do some mixing and matching from different pins. I'm pretty excited about the ones I put together though. I prepared multiple batches of the ones that sounded extra delicious.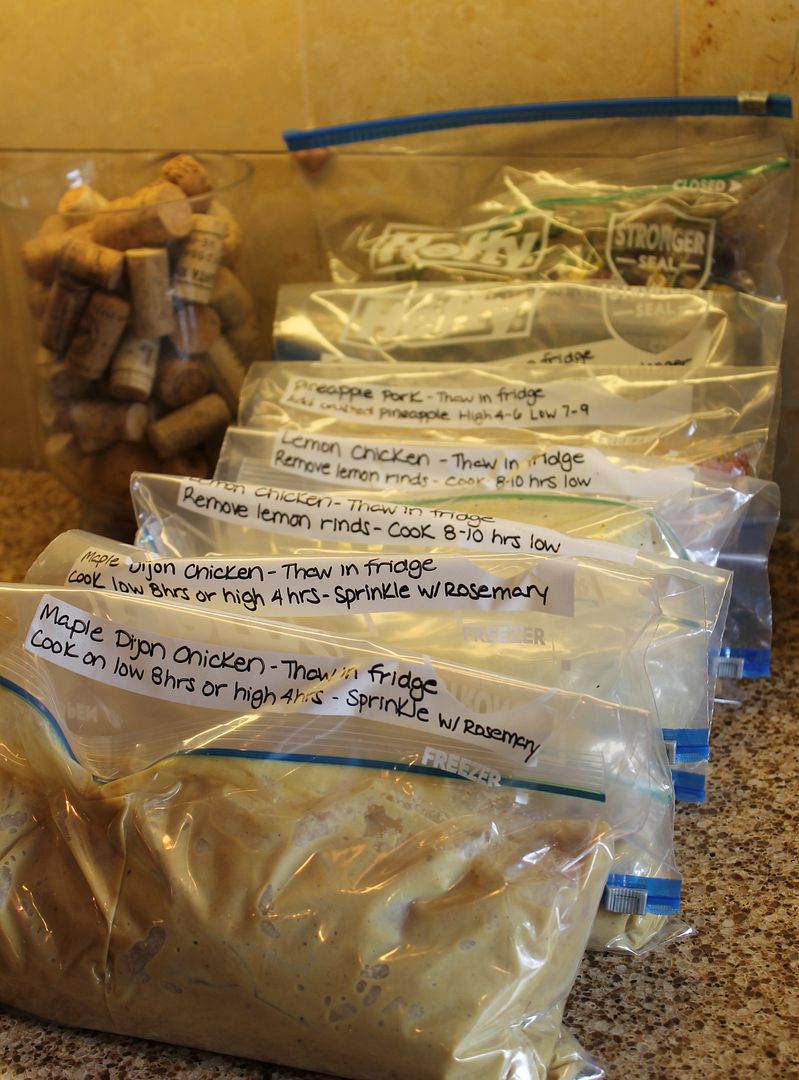 Pineapple Pork
Teriyaki Chicken
Lemon Chicken
Maple Dijon Glazed Chicken
Cilantro Lime Chicken
Pork Chops and Apples
I loved the recipes from Kojo Designs because they even provided a shopping list. It doesn't get much easier than that!
This was the first time I have ever prepared meals in bulk like this. Some pins claim that it only takes an hour to prep everything or that you can make a ton of meals for a really small amount of money. I'm not sure I believe all that. I like to use a lot of organic ingredients, so my bill will always be higher because of that. It also took me a little over two hours to prep all of these meals. I'm sure I could shave some time off the more I do this, but there were a few things to figure out this first time around.
I do have some tips to share if you decide to prepare your meals in bulk like this. First, have all of your freezer bags or containers ready and labeled before you begin. If you are using freezer bags, find a container that you can use to put your bags in and hold them in place while you load the ingredients. I found that a vase worked really well. It was tall and the opening was just the right size to fold the bag over. I also found that it was much easier to work by the list of ingredients, rather than moving from one recipe to the next. For example, I loaded all of the bags with meat before I pulled out any of the other ingredients. I'm a huge germaphob when it comes to meat, so I wanted to get this step over with. I then moved on to the veggies so I could chop everything at once. I think that was a big time saver.
Update – The reviews are in!
You'll definitely want to check out these reviews before you try these recipes. First of all, these were all quite tasty. Our favorite was definitely the Pineapple Pork. The Cilantro Lime Chicken is also delicious if you follow my advice below.
This was my first time prepping bulk freezer meals like this and I definitely learned a few things. First, I have no idea why they tell you to defrost these meals before cooking them. When I defrosted them first as directed, the meat came out really dry. When I put the meals in the Crock Pot frozen, they came out nice and moist. Second, don't freeze herbs. They lose all of their flavor. Add any herbs right to the Crock Pot when you are ready to cook.
Related posts: