I can't believe it…the day has actually arrived! I have made it to Day 366. Has it really been a year already?! When I imagined my 366th post, I pictured making one of the delicious looking cocktails I have pinned. What better way is there to celebrate reaching my goal? Well, when you are pregnant, there are lots of better ways to celebrate. Desserts in particular!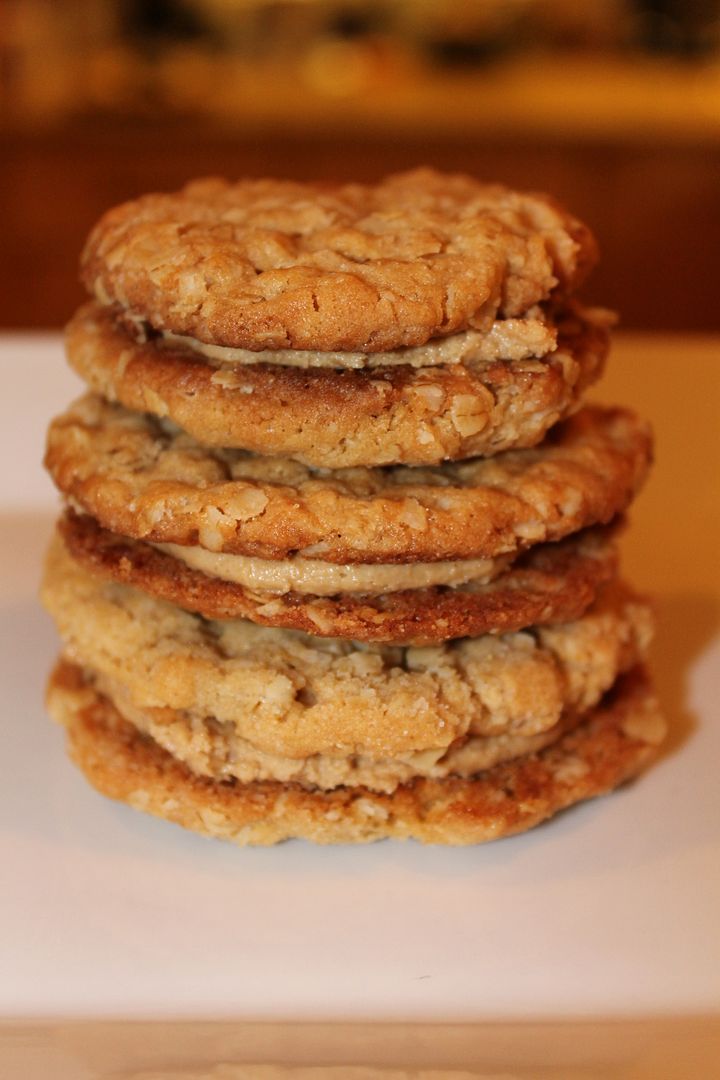 Ingredients:
For the cookies:
1 1/2 cups quick oats
1/2 cup flour
1/2 teaspoon baking powder
1/2 teaspoon baking soda
1/2 teaspoon salt
1/2 cup sugar
1/2 cup brown sugar
1/2 teaspoon vanilla extract
1/2 cup honey roasted peanut butter (you can find it freshly ground at Whole Foods)
1/2 cup unsalted butter, softened
1 egg
For the filling:
1/2 cup confectioner's sugar
1 cup smooth peanut butter (don't use natural peanut butter for this)
Directions:
1. Preheat an oven to 350°F. In a medium bowl, mix the oats, flour, baking powder, baking soda, and salt. Set aside.
2. In a large bowl, mix butter, both sugars, egg, peanut butter, and vanilla. Pour oat mixture into peanut butter mixture, stirring until just mixed.
3. Place rounded teaspoonfuls of batter on an ungreased baking sheet, leaving 2 centimeters between each one. Using your finger, pat dough down so they form small flattened circles. Don't flatten them completely. They will still flatten a little during baking. Bake for 8 minutes. Let cool completely on cookie sheet.
4. While the cookies are baking, whisk together the confectioner's sugar and peanut butter until light and airy, about 5 minutes.
5. On a work surface, place half of the cookies upside down. Whisk the filling to lighten it. Dollop 1 tablespoon of filling into the center of each upside down cookie.  Place second cookie on top of filling and press together until filling just comes to the edges.
I think these are a little closer to heaven than halfway! They were a wonderful way to celebrate. And if you are worried that you will never hear from me again, have no fear! This is far from my last post. Stay tuned for my next post when I will unveil my plans for next year. 🙂
Source:
Broma Bakery
Related posts: