I love anything involving balsamic vinegar, so I made this recipe pretty quickly after pinning it. Sadly, the bun in the oven is still protesting chicken, but I knew this was something my husband would like.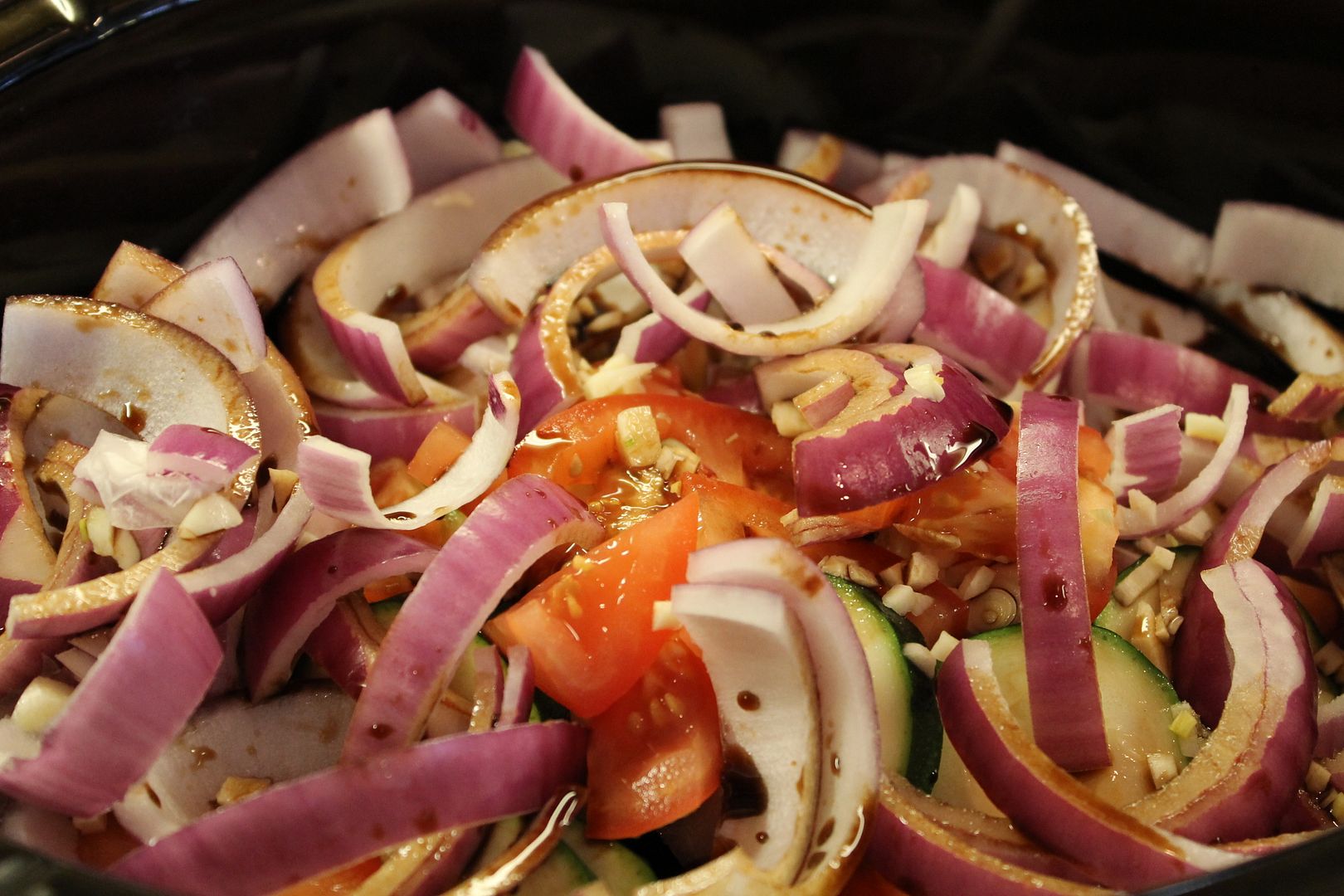 Ingredients:
4-6 boneless skinless frozen chicken thighs (I used chicken breast)
1 whole head of garlic (I used 2 chopped cloves instead)
3 sliced zucchini
2 sliced red onions
2 cups sliced mushrooms (I left these out)
1 sliced tomato
1 handful of small grape tomatoes
1/4 cup balsamic vinegar
2 teaspoons Worcestershire sauce
salt and pepper
Directions:
1. Salt and pepper your chicken pieces.
2. Put the chicken into the Crock Pot.
3. Wash and cut all your vegetables and put them into a mixing bowl. Peel the head of garlic, but keep the cloves intact. I chopped 2 garlic cloves instead. I didn't want entire cloves of garlic floating around in there. What are you supposed to do with them when the meal is ready? Are you supposed to eat them whole with the vegetables??
4. Toss the vegetables with balsamic vinegar and Worcestershire sauce.
5. Pour the vegetables on top of the chicken.
6. Cover and cook on low for 6-8 hours.
Despite the fact that a screaming toddler kind of put a damper on tonight's dinner, my husband said he really enjoyed this. I'm looking forward to making it again when I'll be able to enjoy it too.
Source:
Greenwood Grove
Related posts: