Caramel turtles are easily one of my favorite chocolate treats. Incorporating salted caramel into these is just pure genius. My family usually makes the pretzel, Rolo, pecan combo so I knew these would be a hit with everyone.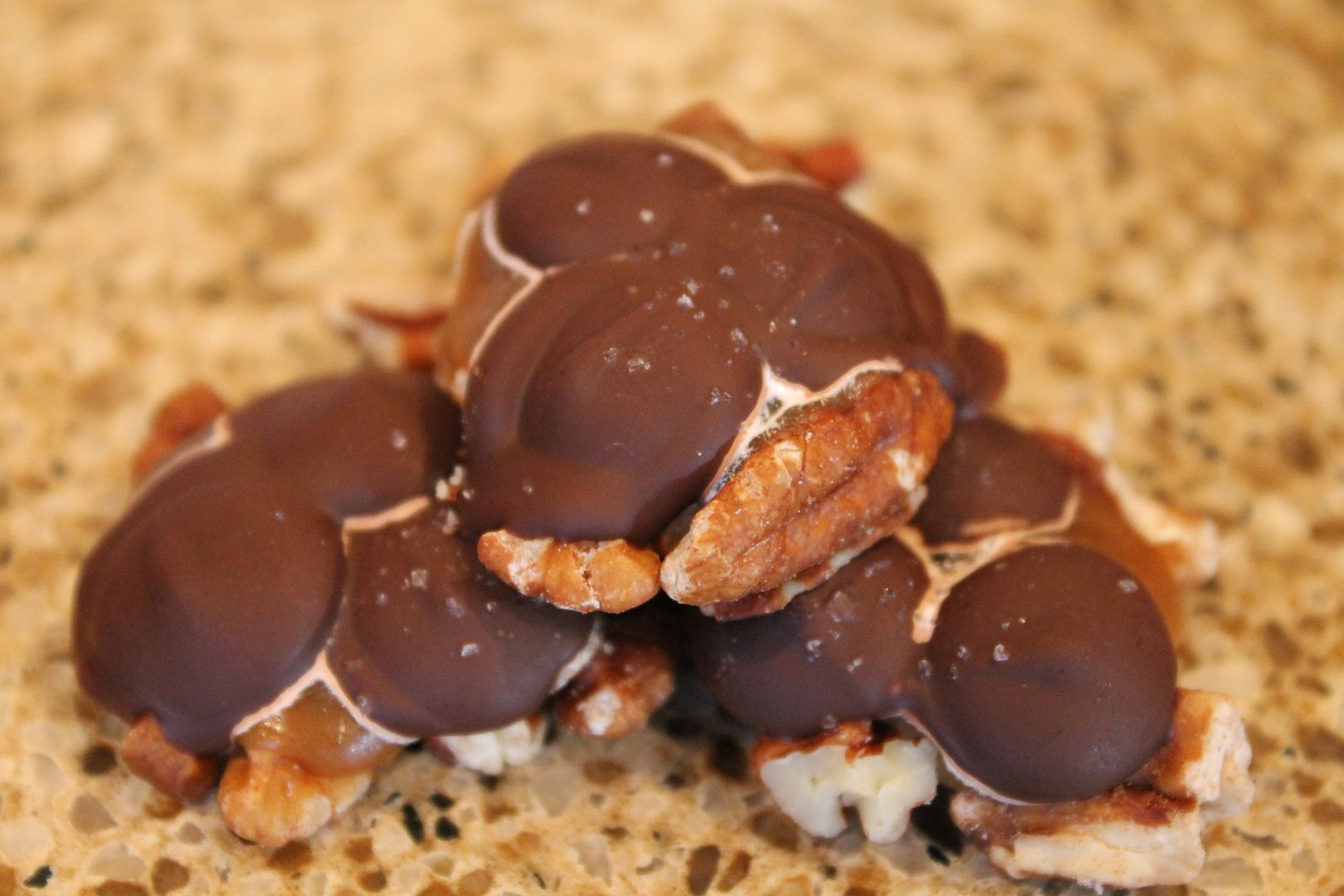 Ingredients:
– 2/3 cup chopped pecans, toasted
– 4-ounce block of caramel, cut into 16 pieces; or 16 caramel candies
– 16 bittersweet chocolate disks (1″ to 1 1/2″ disks)
– a pinch of Fleur de Sel or other sea salt, to garnish each candy
Directions:
1. Preheat the oven to 325°F.
2. Divide the pecans into 16 small piles on a parchment-lined or lightly greased baking sheet (a scant 2 teaspoons pecans each).
3. Flatten each caramel cube into the size of a half dollar, and place on the pecans.
4. Heat in the oven for 2 to 3 minutes, until the caramel softens and begins to melt.
5. Remove from the oven; wait 1 minute, then top each cluster with one disk of chocolate, pressing it into the softened caramel gently.
6. Top each candy with a few flakes of Fleur de Sel, or other coarse sea salt.
7. Allow the caramel and chocolate to cool and set before removing candies from the pan.
These are ridiculous. I think I'll be lucky if they make it out of this house to share with everyone at Christmas. Mine aren't quite as pretty since I didn't use the disks, but at least they still taste amazing. I just used 2-3 bittersweet chocolate chips on each. Make sure you use good quality caramel and chocolate though. This isn't the time to skimp!
Source:
King Arthur Flour
Related posts: