Okay, this is my last attempt at trying to make cauliflower taste good. I've tried the cauliflower crust, the mashed "potatoes" and now this buffalo "chicken" recipe. The recipe said it serves 3-4 people, so I cut it in half. A whole head of cauliflower is a lot, especially since I didn't know how much I would like it.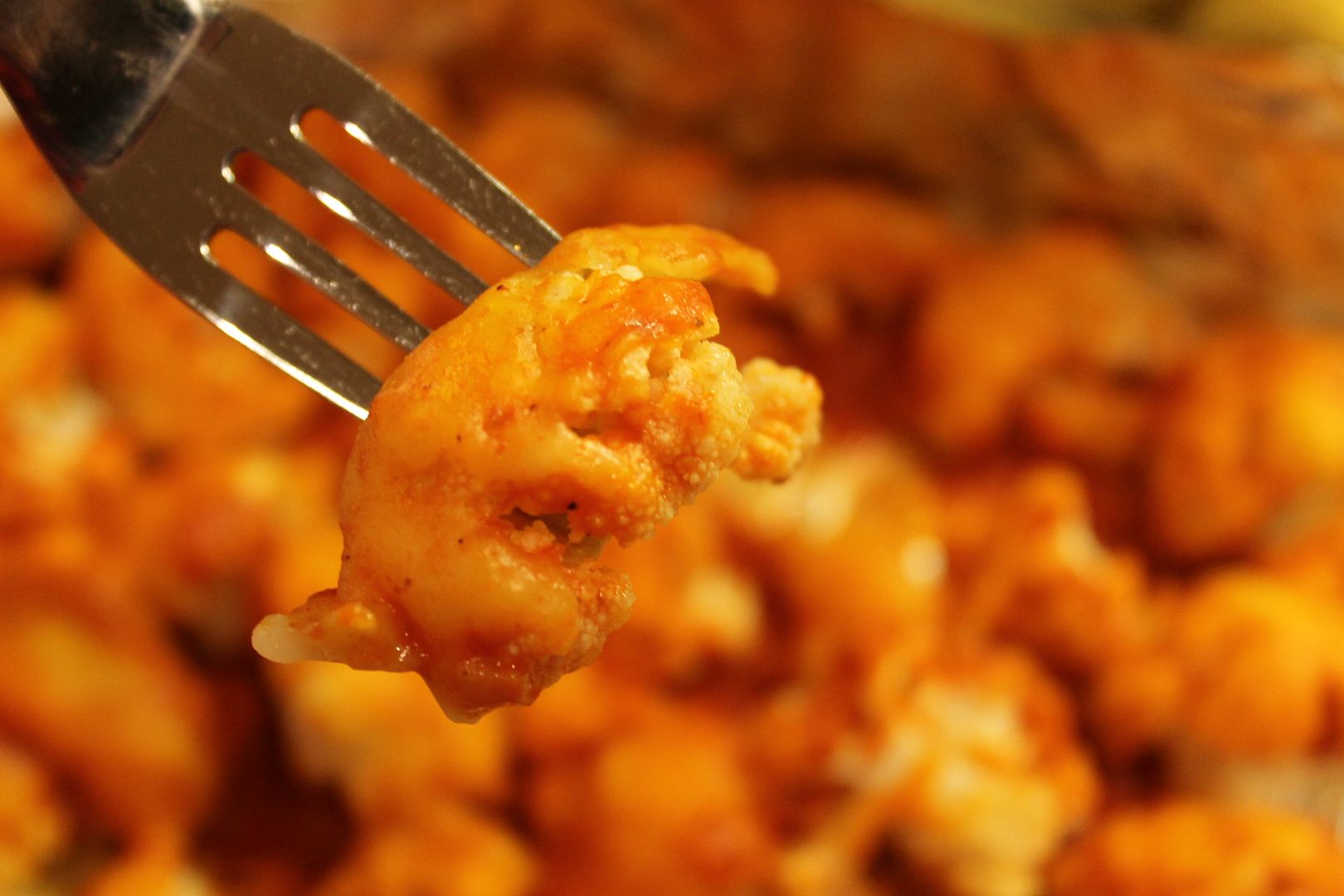 Ingredients:
1 head cauliflower, cleaned and cut into bite-sized pieces
1 cup buttermilk
1 cup all-purpose flour
2 teaspoons garlic salt
1 cup buffalo sauce
1 tablespoon unsalted butter, melted (I didn't use butter)
Directions:
1. Preheat the oven to 450 degrees F.
2.  In a large bowl, whisk together the buttermilk, flour, and garlic salt, whisking until mostly smooth. A few lumps are okay.
3. Very gently, place the cauliflower in the bowl and lightly toss to completely coat with the buttermilk mixture. I coated one piece at a time because the mixture was pretty thick.
4. Place the cauliflower in a shallow baking dish and bake for about 15-18 minutes or so. Watch it closely, it may start to brown up quickly on you.
5. Meanwhile, combine the buffalo sauce and the melted butter in a small bowl.
6. Carefully remove the hot cauliflower from the oven and pour the buffalo sauce mixture over it, stirring gently to coat it as best you can. A silicone brush works really well to make sure everything is coated evenly.
7. Return the cauliflower to the oven and bake for another 5-8 minutes or so. Let cool slightly and serve immediately.
This wasn't bad, but I couldn't fully enjoy it because I could still taste the cauliflower quite a bit. The hot sauce hides a lot of the taste, but not all of it. My husband, who likes cauliflower, really enjoyed this recipe. My brother and his girlfriend also made this recently for our parents. They all loved it. So I think the final verdict is – If you like cauliflower, you will enjoy this recipe. I guess I'm out of luck.
Source:
The Curvy Carrot
Related posts: