I've been looking forward to making these babies for a while now. I love cinnamon almonds, but my husband loves them even more. This recipe looked easy too, so I was pretty pumped.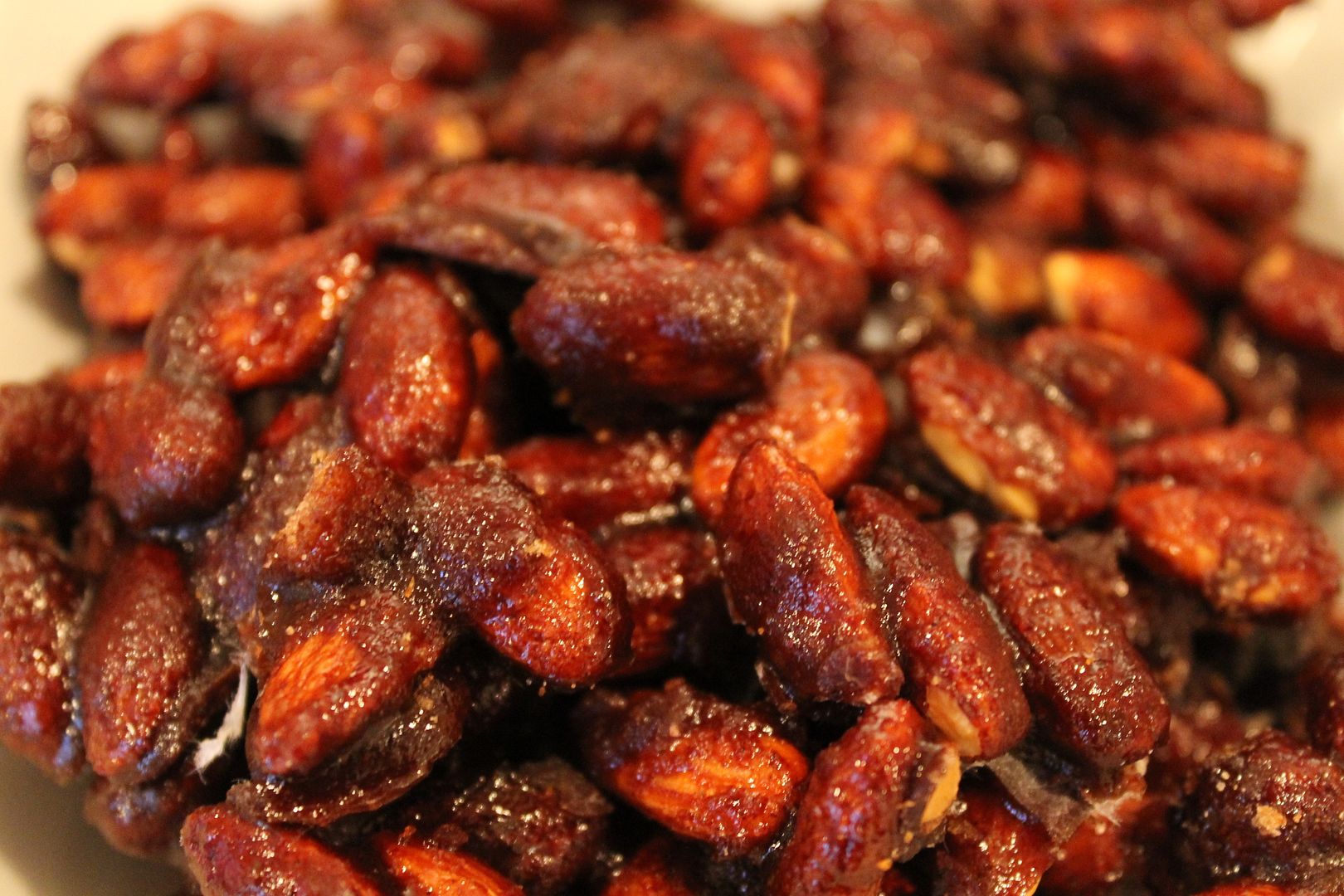 Ingredients:
1 1/2 cup sugar
1 1/2 cup brown sugar
3 Tbsp. cinnamon
1/8 tsp. salt
1 egg white
2 tsp. vanilla
3 cups almonds
1/4 cup water
Directions:
1. Mix sugars, cinnamon, and salt in a large bowl.
2. In another bowl, whisk together the egg white and vanilla until it is frothy.  Add the almonds and coat thoroughly.  This will help the mixture stick to the almonds during the cooking process.
3. Prepare your slow cooker by spraying it with cooking spray. Add the cinnamon sugar mixture to the almonds and stir until the almonds are well coated.
4.  Pour the almond mixture into your slow cooker and cook on low for about 3-4 hours. Stir every 20 minutes. In the very last hour, add 1/4 cup water and stir well. This will ensure a crunchy coating and help the mixture to harden.
5. Line a baking sheet with parchment paper and spread the almonds onto the sheet to cool. The almonds should be pretty sticky so be sure to separate them the best that you can and let them cool.
Sadly, I was a little disappointed by this one. I cooked my almonds for 3 hours, and I still think that was too long. They taste slightly burnt. They are also super sticky and really hot when they come out, so pulling them apart to cool was very difficult. Most of what cooled ended up looking like toffee. The other problem I had was completely my fault. I used wax paper instead of parchment paper. That was a bad call. The almonds stuck right to the paper. Whoops.
I wish you better luck if you decide to try this one!
Source:
The Recipe Critic
Related posts: