This pin annoyed me for two reasons. First, the pin took me to that obnoxious Best Food Pins site again. What is that site and how can we get rid of it? If people are going to pin it, make sure the recipe is listed! This site just takes you to a blown up picture of the pin. What good is that? I tried Googling the recipe and finally found the original pin. I then learned that this recipe is for mashed potatoes even though the description with the pin said it was mashed cauliflower. Uggg! Luckily, other Pinterest users were lead to the post under the same false pretenses. Someone posted how much cauliflower was needed to make a cauliflower version, so I still decided to give it a shot.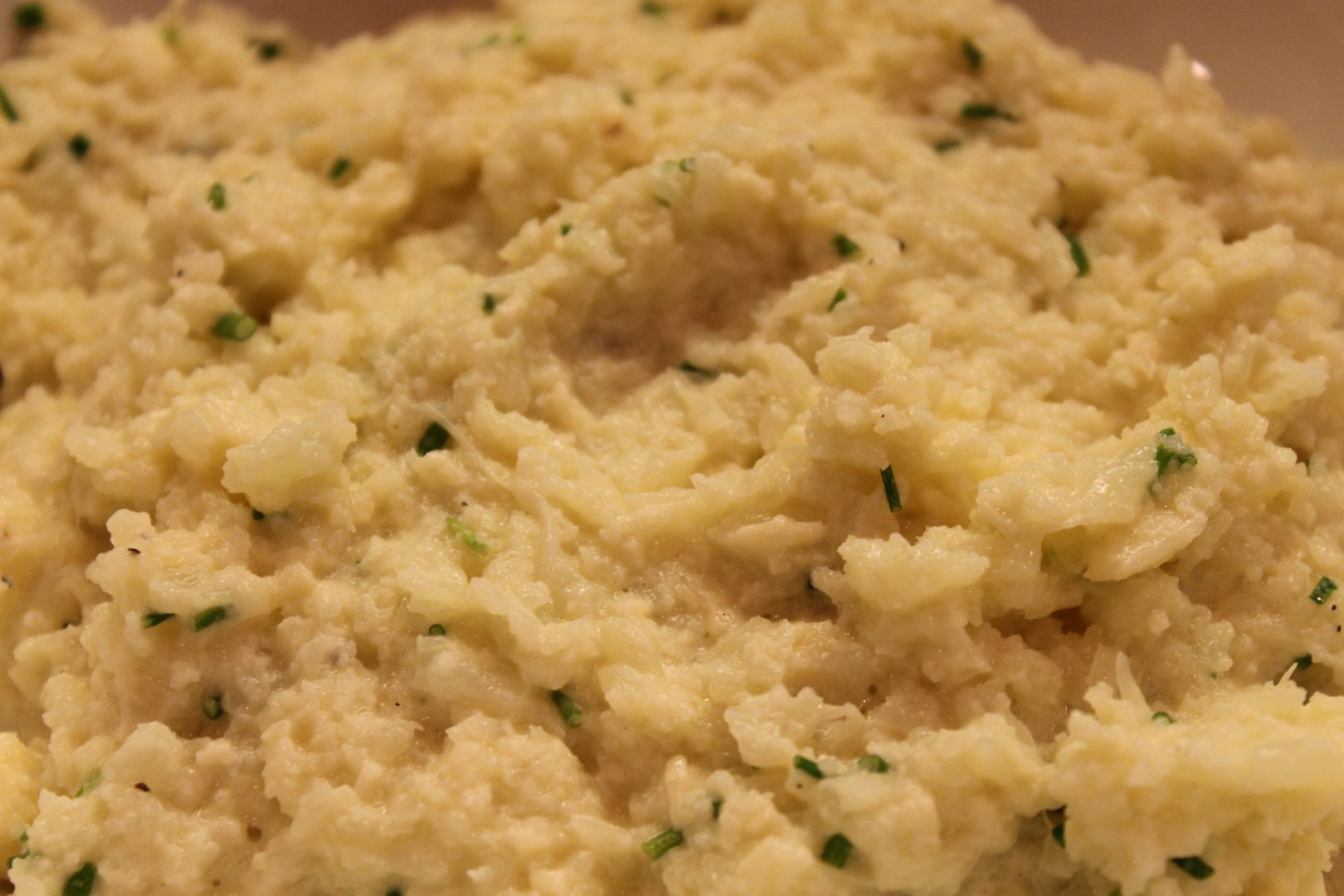 Ingredients:
– 2 lbs or 3 large potatoes, scrubbed, peeled and diced large (or one head of cauliflower)
– 6 cups water (to boil the potatoes)
– 1 teaspoon salt (to add in boiling water to cook the potatoes)
– 4 cloves garlic, ends snipped and peeled
– 1/4 cup extra virgin olive oil (I cut this in half with the cauliflower)
– 1/2 cup evaporated milk (I cut this in half with the cauliflower)
– 1/3 cup grated Romano cheese (or can use Parmesan cheese for substitute)
– 1 teaspoon fresh cracked black pepper
– 2 tablespoons chopped chives
– salt (optional and according to taste)
Directions:
Potatoes:
In a medium size saucepan, put diced potatoes, peeled garlic cloves and water and bring to a boil. Once the water boils, add the salt and cook potatoes until tender. Drain the water from the saucepan of cooked potatoes and garlic. While still piping hot, mash the potatoes and garlic, either leave some bits unmashed (for texture) or mash until smooth.
Cauliflower:
Clean and cut cauliflower into small pieces. Cook cauliflower and garlic in boiling water for about 6 minutes, or until well done. Drain well; do not let cool and pat cooked cauliflower very dry between several layers of paper towels. In a bowl with an immersion blender, or in a food processor, puree the hot cauliflower and garlic.
Whether you used potatoes or cauliflower, now add the extra virgin olive oil and evaporated milk and continue to mash/mix. Mix in the grated Romano cheese and season with pepper and salt (optional and according to taste). Fold-in the chopped chives. And serve hot or warm.
I don't like cauliflower, so I didn't like the recipe. The little man didn't either and he's a really good eater. He likes pretty much anything we give him. Luckily, my husband liked it. I definitely won't be making this again though. I thought it would be like the Cauliflower Crust and wouldn't taste like cauliflower. That was definitely not the case. It was very disappointing.
Source:
Goddess of Scrumptiousness
Related posts: