This recipe had my name written all over it. Pasta? Check. Balsamic vinegar? Check. My favorite vegetable? Check. I couldn't wait to make this. After reading the reviews, I did make some small alterations, so you'll see those notes with the original recipe below.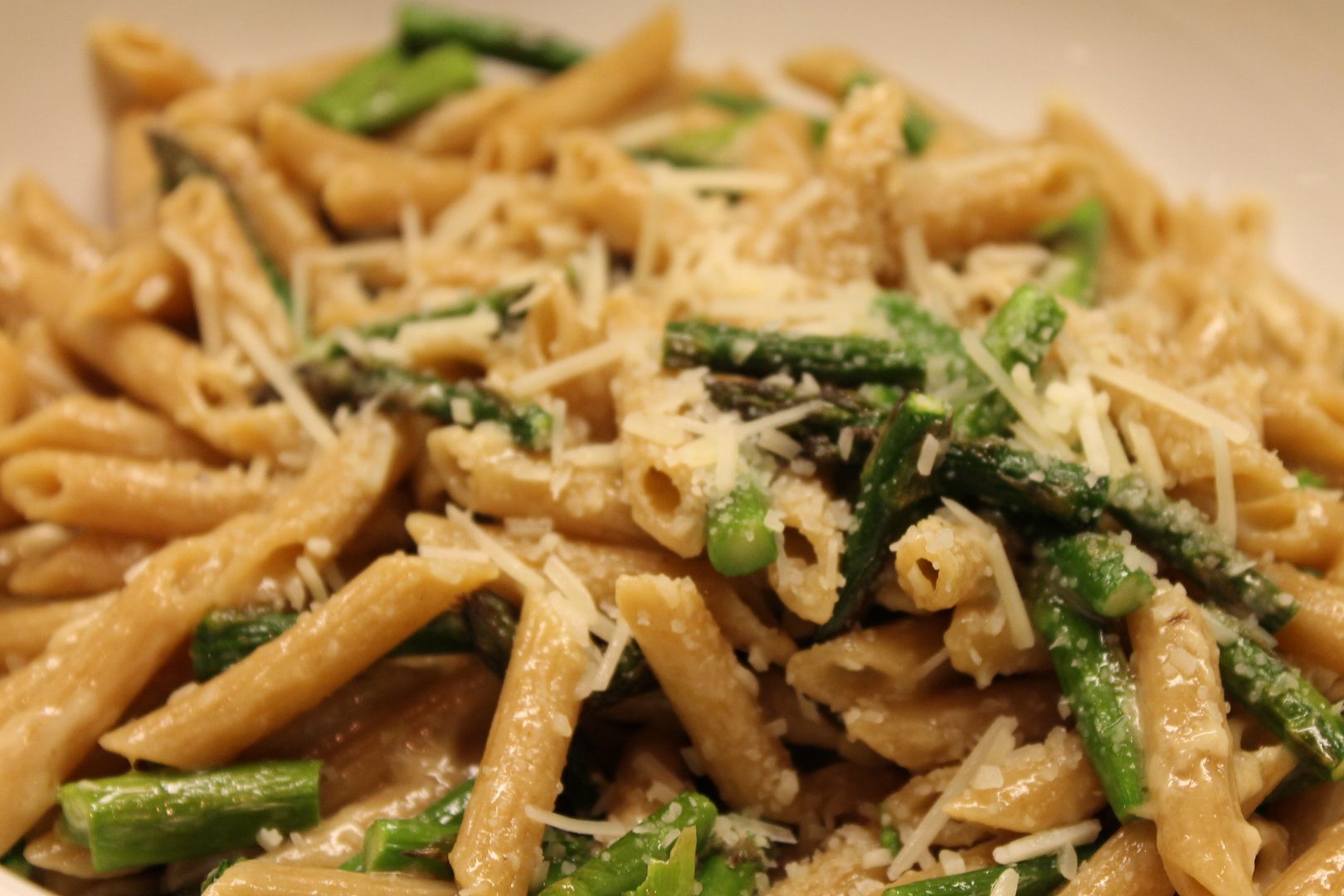 Ingredients:
– 1 pound asparagus
– 1 tablespoon olive oil
– 2 teaspoons salt
– 1/2 teaspoon fresh-ground black pepper
– 1/2 cup plus 2 tablespoons balsamic vinegar (I cut this in half)
– 1/2 teaspoon brown sugar
– 1 pound penne (I cut this in half)
– 1/4 pound butter, cut into pieces (I cut this in half)
– 1/3 cup grated Parmesan cheese, plus more for serving
Directions:
1. Heat the oven to 400°. Snap the tough ends off the asparagus and discard them. Cut the spears into 1-inch pieces. Put the asparagus on a baking sheet and toss with the oil and 1/4 teaspoon each of the salt and pepper. Roast until tender, about 10 minutes.
2. Meanwhile, put the vinegar in a small saucepan. Simmer until 3 tablespoons remain (if you use the full amount). Stir in the brown sugar and the remaining 1/4 teaspoon pepper. Remove from the heat.
3. Cook the penne in a large pot of boiling, salted water until just done, about 13 minutes. Drain the pasta and toss with the butter, vinegar, asparagus, Parmesan, and the remaining 1 3/4 teaspoons salt. Serve with additional Parmesan.
This was scrumptious! I used a white balsamic vinegar, so that's why it doesn't it doesn't have the brown color that you would expect. I'm glad that I read the reviews and made some changes. If I used a full pound of pasta, there would not have been nearly enough asparagus. If you want to make the full pound of pasta, make sure you double the amount of asparagus. I will absolutely be making this again.
Source:
Food & Wine
Related posts: