I have been eying up this recipe for quite some time. I haven't been able to make it though because it requires a stand mixer. Don't you just hate finding an awesome recipe that requires a cooking tool that you don't have? Well, thanks to my awesome in-laws, I'm now the proud owner of my very own stand mixer. They heard me talking about how I was thinking about going out on Black Friday to snag one, and they decided to get one for me as an early Christmas gift. I knew this was going to be the first recipe I tried out.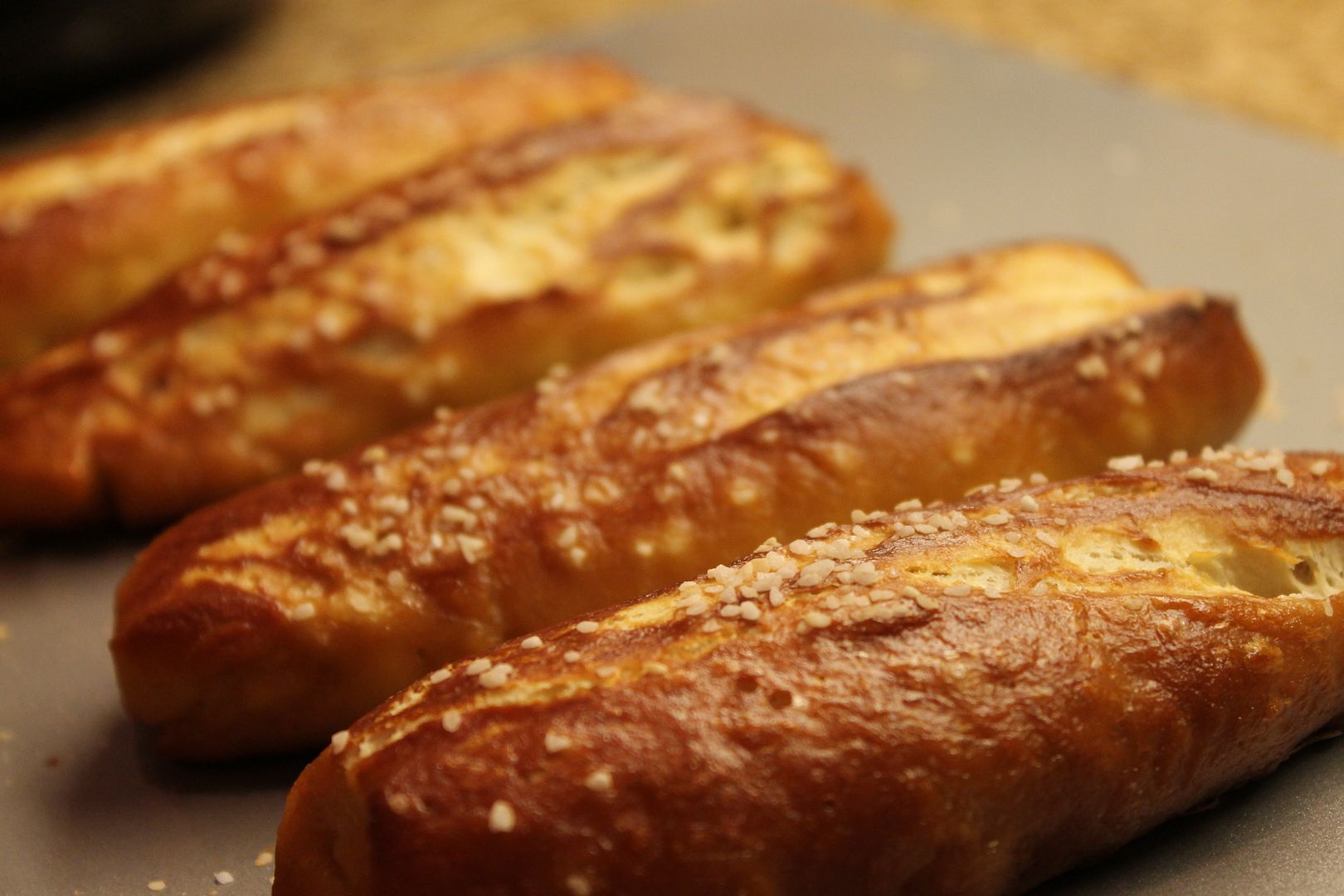 Ingredients:
1 1/2 cups warm water
2 tablespoons light brown sugar
1 package active dry yeast (2 1/4 teaspoons)
3 ounces unsalted butter, melted
2 1/2 teaspoons kosher salt
4 1/2 to 5 cups all-purpose flour
Vegetable oil
3 quarts water
3/4 cup baking soda
1 whole egg, beaten with 1 tablespoon cold water
Coarse sea salt
Directions:
Combine the water, sugar, yeast, and butter in the bowl of a stand mixer and mix with the dough hook until combined. Let sit for 5 minutes.
Add the salt and flour (start with 4 1/2 cups of flour) and mix on low speed until combined. Increase the speed to medium and continue kneading until the dough is smooth and begins to pull away from the side of the bowl, about 3 to 4 minutes. If the dough appears too wet, add additional flour, 1 tablespoon at a time.
Remove the dough from the bowl, place on a flat surface and knead into a ball with your hands.
Oil a bowl with vegetable oil, add the dough and turn to coat with the oil.
Cover with a clean towel or plastic wrap and place in a warm spot until the dough doubles in size, about 1 hour.
Preheat the oven to 425 degrees F.
Bring the water to a boil in a small roasting pan over high heat and add the baking soda. I used a large pot. The baking soda really fizzes when you add it, so make sure you use a large pot or pan.
Remove the dough from the bowl and place on a flat surface.
Divide the dough into 8 equal pieces, about 4 1/4 to 4 1/2 ounces each.
Roll each piece into a long rope and shape into the lengths or shapes that you want. The sticks were really easy. I made 16.
Boil the pretzels in the water solution in batches. Boil for about 30 seconds. Remove with a large slotted spoon.
Place pretzels on a baking sheet that has been sprayed with cooking spray. Make sure they are not touching. They will expand slightly while baking.
Brush the tops with the egg wash and season liberally with the salt.
Place into the oven and bake for 15 to 18 minutes until golden brown.
Add additional toppings immediately after they come out of the oven.
I am a huge fan of soft pretzels. My husband works right by a Philly Soft Pretzel Factory, so he brings them home for me and the little man once a week. I could easily eat them every day. Philly may not know football right now, but they sure know soft pretzels. These don't really compare to Pretzel Factory's pretzels, but they are still good. They are much better than the fake frozen things you can buy at the supermarket. The next time I make them, I'm going to have a cheese dip to go along with them. Theses are the types of pretzels that are amazing with cheese. Mmmmm! Don't be intimidated by the 15 step recipe either. They really weren't that hard to make.
Source:
Lee Cooks, Margy Eats
Related posts: