I don't make many breakfast foods in the Crock Pot. This is only my second attempt. My first was an oatmeal recipe that didn't quite turn out the way that I had hoped. This one, however, was fantastic! The only problem is that it requires some prep time, so it won't be ready first thing in the morning. It's perfect for a late breakfast or a brunch though.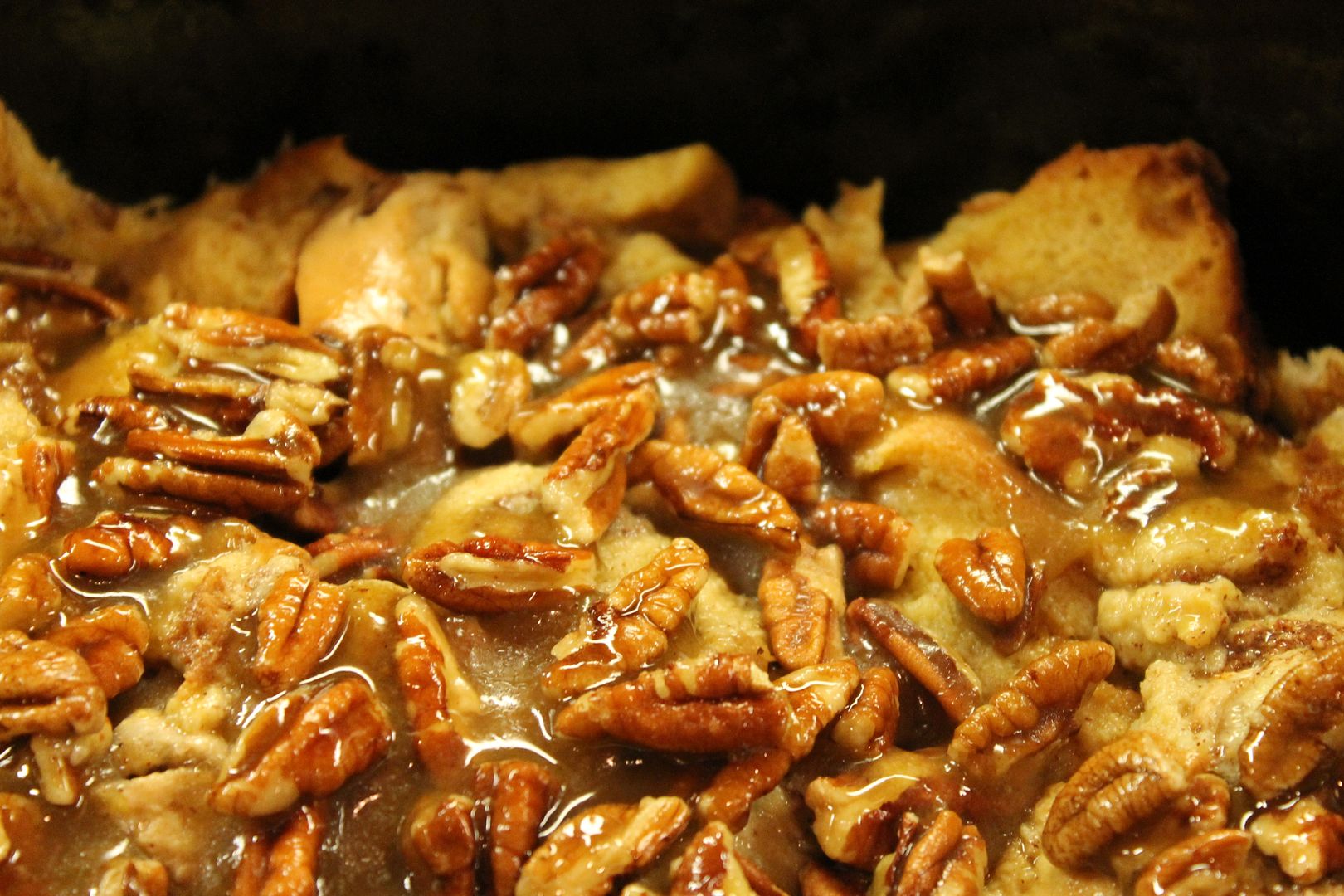 Ingredients:
– 1 loaf of bread sliced or diced (I used Pepperidge Farm Pumpkin Swirl bread)
– 6 eggs
– 2 cups milk
– 1/2 tsp cinnamon
Topping
– 1/4 cup butter softened (I used melted butter)
– 1/2 cup firmly packed brown sugar
– 1 tsp cinnamon
– 1/2 cup chopped pecans
– Dash of nutmeg
Directions:
1. Whisk together eggs, milk and cinnamon and pour over diced bread in a large bowl. Cover an let it soak overnight in the fridge or at least 4 hours. I soaked mine overnight.
2. When ready to bake, spray the inside of the Crock Pot (4-6 quart sized works best) to avoid sticking. Pour in bread mix.
3. In a small bowl mix together butter, brown sugar cinnamon, pecans and nutmeg. Crumble of the top of the bread mix. Cover and cook on low for 4 hours or on high for 2 hours. Let sit for 15-20 minutes and serve.
I went for the speedy cooking method and was worried the edges might burn. They didn't. The french toast was cooked perfectly and it was absolutely delicious! If you have made an overnight french toast before, then you know how tasty they are. The Crock Pot was perfect for me because I brought this to school for a department breakfast today. The Crock Pot kept it nice and warm until everyone inhaled it.
I highly recommend using the Pepperidge Farm Pumpkin Swirl bread for this. That bread makes such amazing french toast. I wasn't sure if one loaf would be enough since they are smaller than normal loaves of bread. I used an entire loaf of the Pumpkin Swirl and about 1/3 loaf of the Cinnamon Raisin. It was a nice combination and it made the perfect amount.
Source:
Moms with Crock Pots
Related posts: