I love when the words "breakfast" and "cookie" are used in the same recipe. I'll be honest though, I didn't have really high expectations for these cookies. It's a Paleo recipe, so I was really just making them for my husband. I didn't expect them to be absolutely delicious!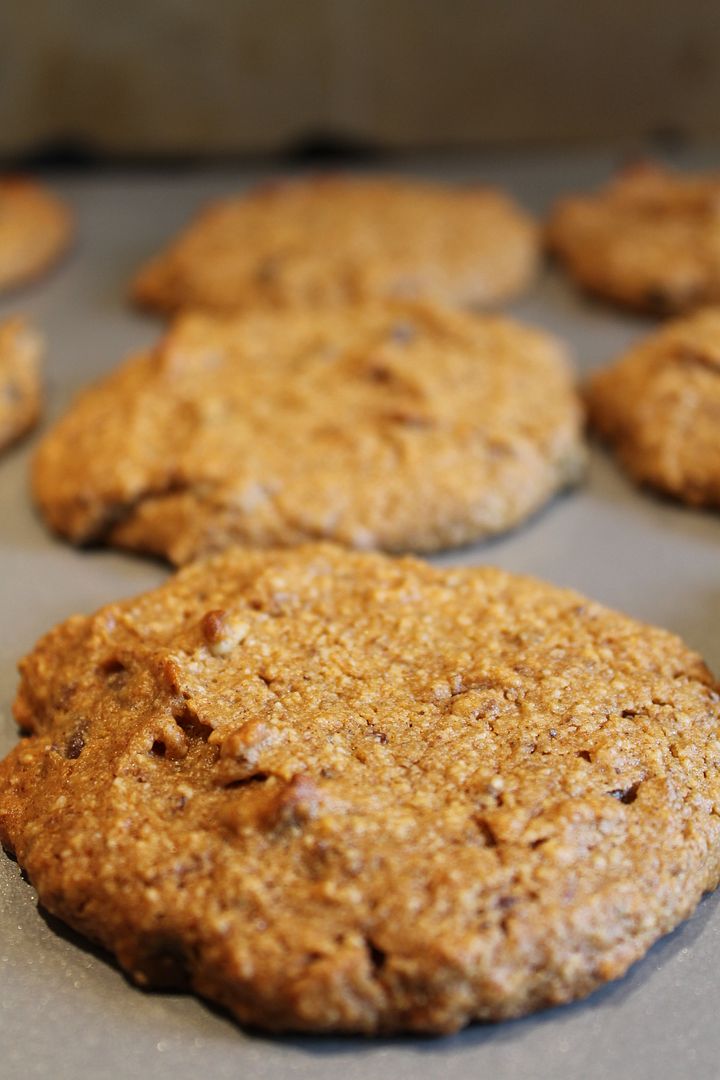 Ingredients:
1/4 cup canned pumpkin
1/2 cup almond butter (or any nut butter – we used natural peanut butter)
1/2 cup honey
1 tsp vanilla
1 cup almond meal/flour
1 tsp pumpkin pie spice or 1tsp ground cinnamon (I used 1 1/2 tsp more of the pumpkin pie spice for a little more spice)
1/4 tsp baking soda
1/2 cup dark chocolate chips or dried fruit (I used dark chocolate chips)
1/2 cup walnuts, or pecans, or whatever you'd like (I used 1/4 cup chopped walnuts)
Directions:
1. Preheat the oven to 350 degrees and line a cookie sheet with parchment paper. Personally, I never use parchment paper, but that's just me. I have learned that you get what you pay for with cookie sheets though. I finally invested in a nice one!
2. Combine all wet ingredients together then add the dry ingredients and combine thoroughly. Scoop batter to whatever size you'd like and flatten out to the desired thickness since these do not spread on their own. They do flatten slightly when baking though, so make sure you still leave a little space between them.
3. Bake approximately 10-15 minutes, according to thickness. I made 11 cookies and they took closer to 15 minutes.
4. Remove from baking sheet two minutes after cooling and transfer to cooling rack.
Even if you aren't on the Paleo diet, these are amazing! My son and I probably ate more of them than my husband did. Whoops! I guess I'll have to make them again…darn.
Source:
The Girl Who Went Paleo
Related posts: