Now that I have discovered how awesome spaghetti squash is, I was excited to find more recipes featuring it. This one looked easy and quite tasty, and it didn't disappoint.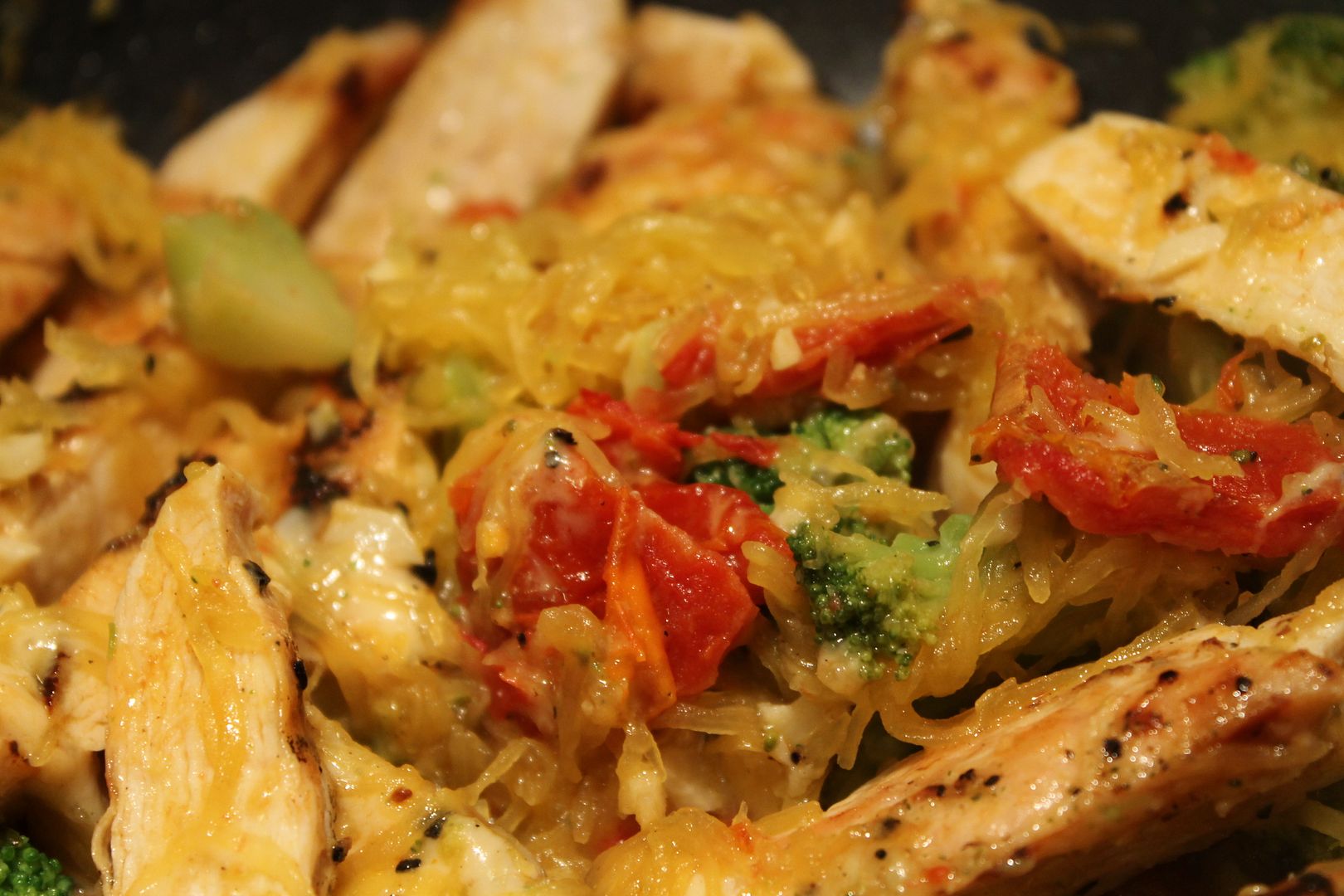 Ingredients:
1 medium size spaghetti squash (I only used half of a squash)
1/3 cup sundried tomatoes, chopped
4 cloves garlic, minced
1 cup frozen peas
1 broccoli crown, chopped
2 chicken breasts, grilled and sliced
2 tbsp extra virgin olive oil
1 cup chicken broth
grated parmesan cheese (about 1/4 cup)
salt/pepper, to taste
Directions:
1. Preheat oven to 375 degrees F.
2. With a sharp knife, carefully cut the spaghetti squash in half lengthwise. Scrape/remove seeds with a spoon. Place squash halves cut side down on a baking sheet; bake for 45 minutes. Let squash cool.
3. Using a fork, scrape the inside of the squash to remove the strands.
4. In a large, deep skillet, heat olive oil over medium-high heat. Add garlic. Saute one minute, then add spaghetti squash and saute an additional 2 minutes. Salt and pepper to taste.
5. Add 1/4 cup of chicken broth, sundried tomatoes, and broccoli. Saute 5 minutes.
6. Add peas, grilled chicken, and remaining 3/4 cup chicken broth. Shake about 1/4 cup parmesan cheese into mixture (just enough to thicken the chicken broth).
7. Reduce heat to medium-low. Cover skillet and simmer for about 3 minutes.
8. Serve with fresh shaved parmesan cheese.
Let me explain why I only used half of the spaghetti squash. While the squash is great right out of the oven, it's not so great the next day for leftovers. It gets pretty mushy. I didn't want this dish to be so heavy with squash that it totally turned into mush the next day. I think half the squash was just enough. Since it had chicken in it, I didn't have any. My husband loved it though. He's pretty pumped about our spaghetti squash discovery!
Source:
She likes ruffles, he likes truffles
Related posts: