I haven't posted a recipe involving buffalo sauce in quite a while. Unacceptable! It was time to try these buffalo meatballs.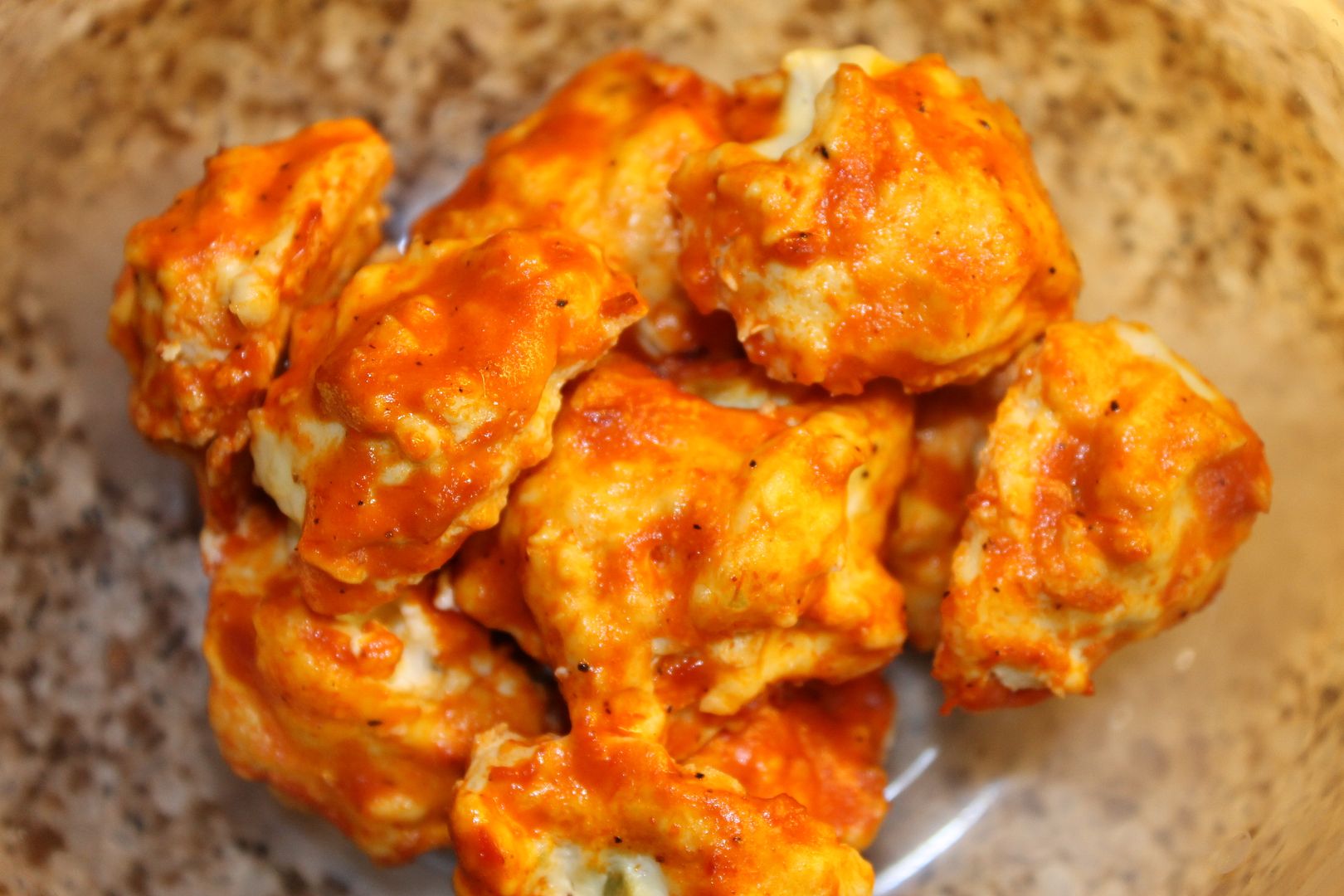 Ingredients:
For the meatballs:
1lb ground chicken
2 oz cream cheese, softened
2 eggs
2 Tbl chopped celery
3 Tbl crumbled blue cheese (I don't like blue cheese, so I left it out)
1/2 tsp black pepper
For the sauce:
1/2 stick (4 oz) unsalted butter (Leave this out if you use buffalo wing sauce)
1/2 cup Frank's Red Hot (I used Wing Time Buffalo Sauce)
Directions:
1. Combine all of the meatball ingredients in a medium bowl. The mix will be sticky and gooey, but that's normal. Form into about 1 inch balls. Place them on a greased cookie sheet (with sides) and bake at 350 degrees F for 10 minutes.
2. Meanwhile, combine the Frank's and butter in a small saucepan on medium heat, or place in a microwave safe bowl for 2 minutes on high. If you are using buffalo sauce, which I would suggest, just pour 1/2 cup in a small bowl without the butter. After 10 minutes, remove balls from oven and dunk carefully (they are tender from the cream cheese and could fall apart if you are too rough) in the buffalo sauce. Put back onto the cookie sheet and bake for another 12 minutes.  If you have leftover sauce you could pour it over the meatballs and bake for another 3 to 4 minutes if you want them really saucy.
I thought that I could trick the baby into letting me eat these since it was ground chicken instead of chicken breast. No such luck. My husband surely didn't mind the extra leftovers though. He loved these! I have to tell you about the amazing buffalo sauce my mom found at Whole Foods. It's called Wing Time Buffalo Sauce. It's really low in sodium, which I didn't even think was possible for a buffalo sauce. Texas Pete's used to be my favorite, but that has been taken over by this delicious stuff. Mmmm!
Source:
I Breathe…I'm Hungry
Related posts: