I've been looking for new vegetable sides because we always seem to grab for the frozen vegetables. It was time to mix it up a little bit. These babies did the trick! The recipe calls for 6 squash, but you can easily adapt it. We only used one and it was just the right amount for my husband and I.
Ingredients:
6 butternut squash (about 9 pounds total)
1 1/2 teaspoons salt, plus more to taste
1/2 teaspoon freshly ground black pepper, plus more to taste
1/2 cup plus 1 tablespoon nonfat sour cream (I used plain Chobani instead)
2 teaspoons paprika
6 fresh chives, cut into 1/8-inch pieces
3 tablespoons fresh breadcrumbs, lightly toasted
Directions:
1. Heat oven to 450 degrees with the rack in center. Halve squash lengthwise, and remove seeds and fibers. Sprinkle squash halves with 1/2 teaspoon salt and 1/4 teaspoon pepper. Fill a roasting pan with 1/4 inch water. Place squash in pan. Cover with aluminum foil, and bake until squash is tender when pierced with the tip of a knife, 35 to 45 minutes. Remove from oven, transfer squash to a cool surface, and let cool enough to handle. Reduce oven temperature to 425 degrees.
2. Use a spoon to scoop baked flesh out of each half into a large bowl, leaving a 1/4-inch border around six of the halves so they will keep their shape. To the bowl, add sour cream (or Greek yogurt), paprika, chives, and remaining teaspoon salt and 1/4 teaspoon pepper. Mix with a handheld electric mixer or potato masher until smooth and well combined. Season with salt and pepper. Fill six squash halves with mixture (discard remaining six empty halves). Sprinkle tops with toasted breadcrumbs. Bake until golden brown and warm throughout, 20 to 30 minutes. Serve.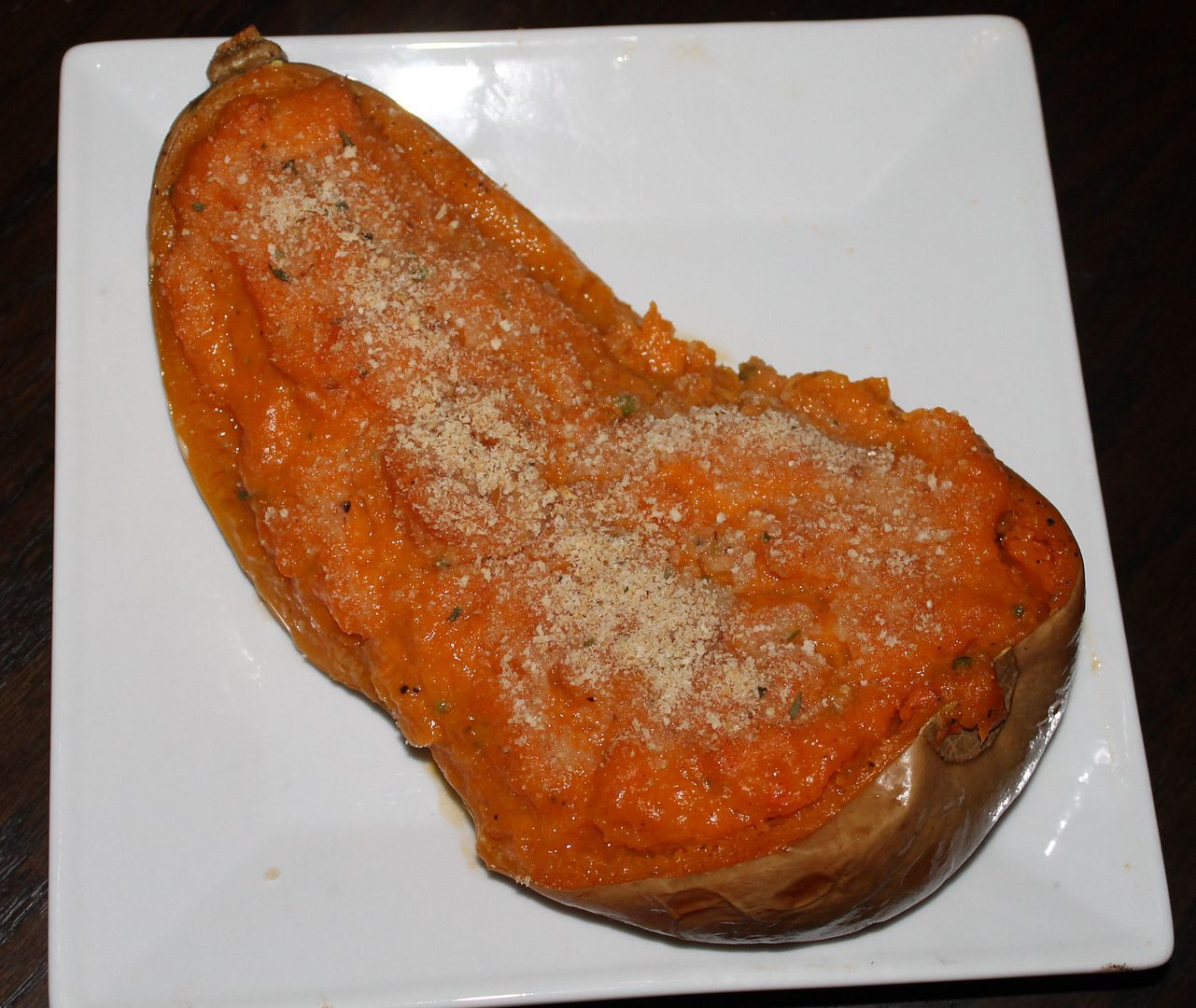 Mmmm! These were really tasty. They definitely have a little kick to them, and I loved that. Mine didn't look quite as attractive as the ones Martha featured on her blog, but what's new? Taste is all that matters anyway. This isn't Chopped.
Source:
Martha Stewart
Related posts: