Since my husband isn't eating pasta, I wanted to find some fun alternatives for him. I found a pin for 10 different ways to cook spaghetti squash. I've never had spaghetti squash before, so I wasn't sure what to expect. Apparently, it makes a great pasta substitute. I decided to go with the Spaghetti Squash with Turkey Meatballs recipe.
Check it out! It really looks like spaghetti, doesn't it?!
Ingredients:
For the Spaghetti Squash
2 spaghetti squashes (about 2 pounds each), halved lengthwise and seeds removed (I only used one)
1 tablespoon extra-virgin olive oil
Salt and freshly ground black pepper
For the Sauce
2 tablespoons extra-virgin olive oil
4 cloves garlic, finely chopped
2 tablespoons tomato paste
2 cans (28 ounces each) crushed tomatoes with basil
1 teaspoon dried oregano
Coarse salt and freshly ground black pepper
For the Meatballs
1/2 cup fresh breadcrumbs
1/2 cup grated Parmesan-Reggiano cheese, plus more for serving (I used Parmesean-Romano)
1/4 cup chopped fresh parsley
1 large clove garlic, finely chopped
1/4 cup milk
1 pound ground turkey
1 large egg
3/4 teaspoon coarse salt
Freshly ground black pepper
2 tablespoons extra-virgin olive oil
Directions:
1. To prepare the spaghetti, preheat the oven to 400 degrees. Drizzle cut sides of squashes with oil; season with salt and pepper. Place cut sides up on a baking sheet. Bake until soft to the touch, 1 to 1 1/4 hours.
2. To prepare the sauce, heat the oil in a saucepan over medium-high heat. Add the garlic and cook, stirring with a wooden spoon, for 1 minute. Add the tomato paste and cook, stirring, for an additional minute. Stir in the tomatoes and oregano; season with salt and pepper. Bring to a boil, and reduce to a simmer. Cook, stirring occasionally, until thickened, about 20 minutes. Keep warm over low heat.
3. Prepare the meatballs. In a medium bowl, stir together the breadcrumbs, Parmesan, parsley, and garlic with a wooden spoon until combined. Add the milk, and stir until incorporated. Add the turkey, egg, salt, and pepper, and mix with your hands until well combined. Form mixture into 1 1/2-inch balls. I made the meatballs really small because I found it hard to cook them through if they were bigger.
4. Heat the olive oil in a large nonstick skillet over medium-high heat. Working in 2 batches, cook the meatballs until evenly browned, turning often, about 6 minutes. Repeat with remaining meatballs. Transfer meatballs to the sauce, and simmer until cooked through, about 10 minutes.
5. When the squashes are cool enough to handle, scrape the flesh of each squash with a fork into strands, and place into a large bowl. Serve topped with meatballs and sauce, and sprinkled with cheese, if desired.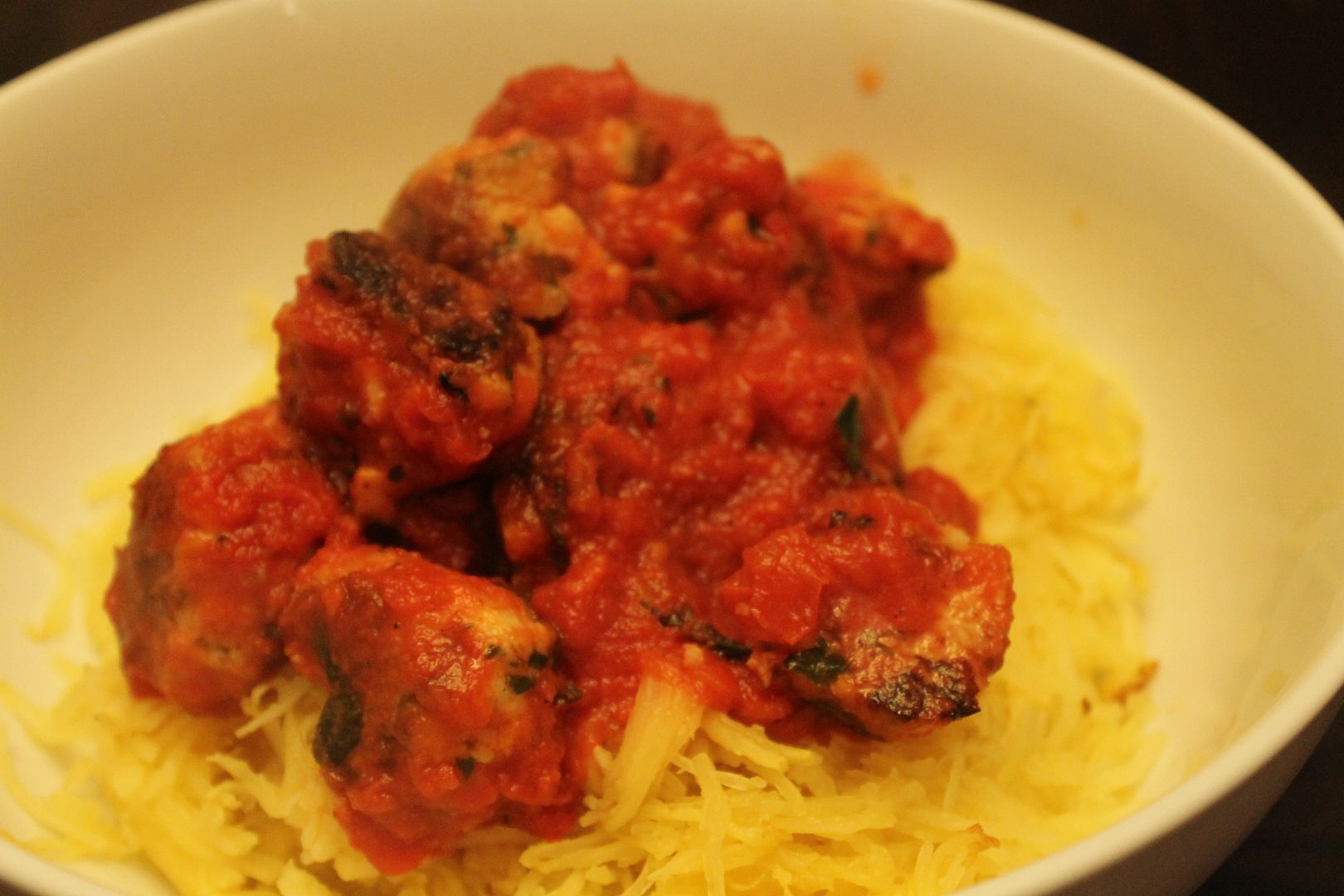 I was very skeptical of the spaghetti squash. I was actually going to make my own pasta because I didn't expect to like the squash. I was in for quite a surprise. It was delicious! This is an amazing gluten-free or carb-free pasta option. Even if you aren't trying to avoid carbs, it's still worth trying. I will absolutely be making this again.
Source:
Martha Stewart
Related posts: