I love fall decorations. I think it's probably all of the ridiculous smelling fall candles that I have. Outside of Christmas, it's my favorite season/holiday to decorate for. I knew I wanted to add this super cute craft to my decor. You don't have to spell BOO either. This will work for anything!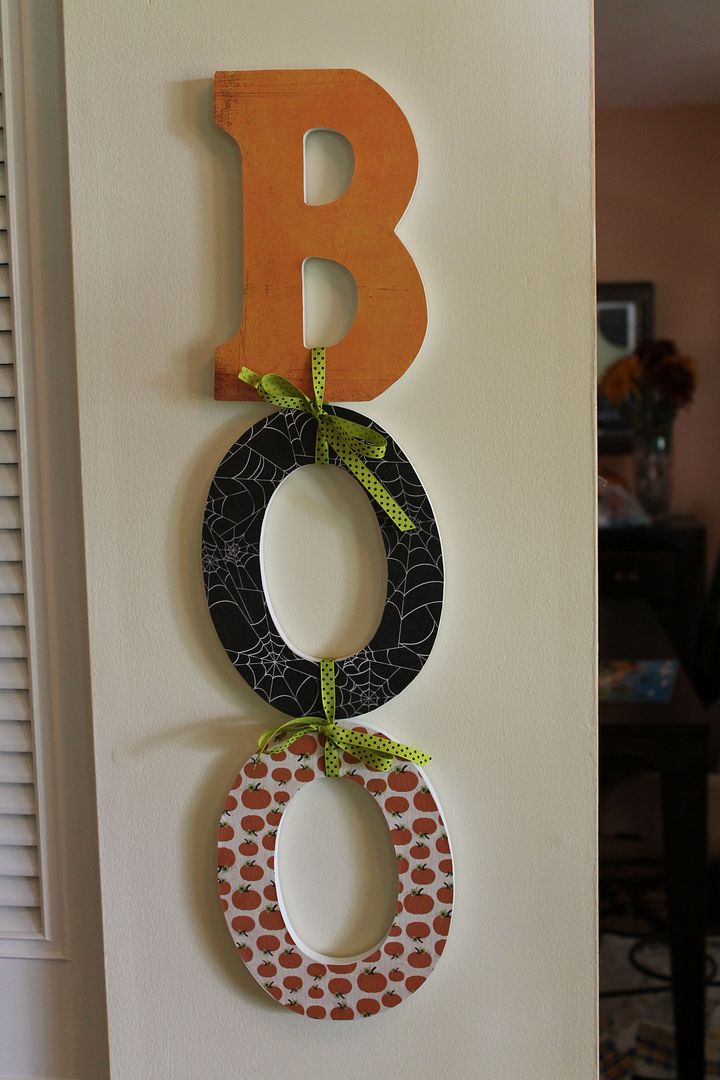 Materials:
– Wooden letters to spell out the word of choice
– Various scrapbook papers
– Mod Podge
– Scissors
– Ribbon
– Paint and paint brush (if needed)
Directions:
1. If desired, paint the edges of the wooden letters and let dry. I kept mine white, so I skipped this step.
2. Trace your wooden letter onto the back of your paper and then cut the traced shape out.
3. Add an even coat of Mod Podge to the wooden letter and adhere paper into place. Let dry completely and resist the urge to pop or mush any bubbles should you get them on your paper. I'm so glad she included this note about the bubbles. I totally would have tried popping them, but they went down once the Mod Podge dried.
4. Once dry, add a top coat of Mod Podge over the paper.
5. When the top coat is dry, you can sand the edges of each letter if needed. Add ribbon to hang the letters together.
This was such a quick and easy craft. This would be great for names to display in a child's room too. The word BOO works so well because they are all closed letters, so you might not be able to hang other words as easily.
Source:
Then She Made…
Related posts: