As soon as I pinned this, I was just waiting for an excuse to make it. I knew I didn't need a whole tray of these sitting in my house. I would eat them all! I decided to treat my coworkers today while we were grading some student writing samples. They were quite excited!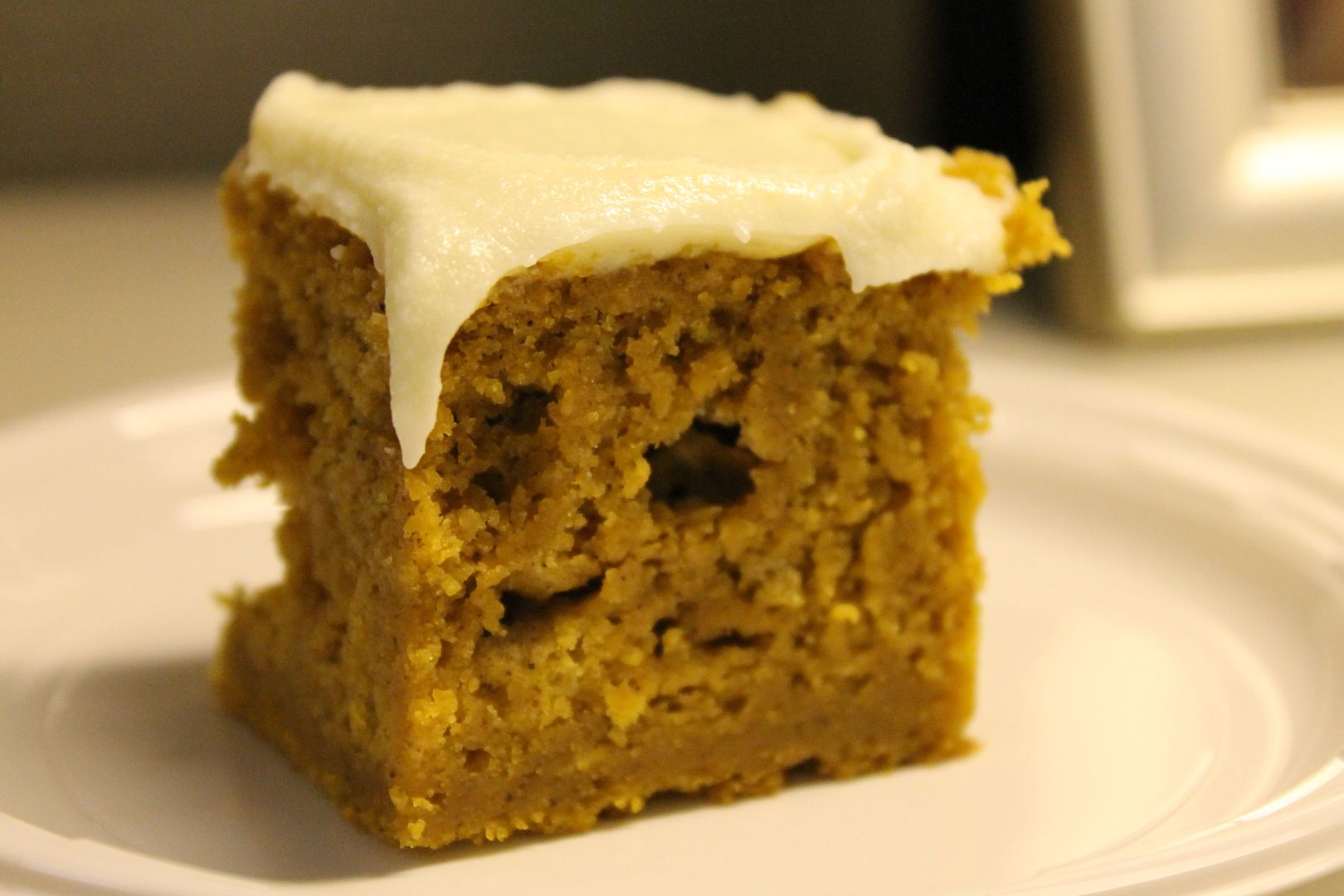 Ingredients:
Bars:
1 (29 oz.) can pumpkin puree
3/4 c. canola oil
3 large eggs
1-2/3 c. sugar
2 c. all purpose flour
2 tsp. baking powder
1 tsp. baking soda
1 tsp. salt
2 tsp. ground cinnamon
1 tsp. ground ginger
1 tsp. ground nutmeg
Maple Cream Cheese Frosting:
2 c. powdered sugar, sifted
1/2 c. unsalted butter, softened
1 (8 oz.) package cream cheese, softened
1 tsp. maple extract
Directions:
1.  Heat oven to 350°F.  In large bowl, combine pumpkin puree, canola oil, eggs, and sugar until light and fluffy (about 3 minutes).
2.  In medium bowl, sift together flour, baking powder, baking soda, salt, cinnamon, ginger, and nutmeg.  Slowly pour dry ingredients into wet ingredients and fold together until completely combined.
3.  Pour pumpkin mixture into ungreased 15×10-inch pan. I didn't have a 15×10-inch pan. The 13×9-inch pan worked well though.
4.  Bake 25 minutes or until toothpick inserted in center comes out clean.  Let pan cool completely.
5.  Meanwhile, for frosting, combine cream cheese and butter just until combined (do not overmix).
6.  Add in maple extract. I didn't have maple extract, so I tried to use maple syrup. After adding about a tablespoon, I realized I wasn't going to get a strong enough maple flavor without dumping in half the bottle. I decided against that, so my frosting wasn't too maple flavored.
7.  On low speed, slowly add in powdered sugar.  Once combined, increase mixer speed to mix all ingredients together.  Refrigerate frosting until ready to use.
8.  Spread frosting over cooled pumpkin bars. I actually had quite a bit of frosting left over. It doesn't need a huge layer of frosting in my opinion, but you can use as much or as little as you would like. Store these in the refrigerator until ready to serve.
These were scrumptious! If there's one thing I love about pumpkin bread, it's how moist it is. This bread was no exception. And how can you go wrong adding cream cheese frosting to anything? You can't. Make these and make them soon!
Source:
Life's Simple Measures
Related posts: