I have seen a few play dough recipes floating around Pinterest, but this one really stuck out to me. It was advertised as a four minute recipe, and I had all of the materials on hand. I decided to give it a shot.
Materials:
2 cups plain flour (all purpose)
2 tablespoons vegetable oil
1/2 cup salt
2 tablespoons cream of tartar
up to 2 cups boiling water
food coloring (optional)
few drops glycerine (optional – apparently this adds more shine, but I didn't add it)
Directions:
Mix the flour, salt, cream of tartar and oil in a large mixing bowl.
Add the boiling water. I'm not sure why the directions say up to 2 cups. I added the full 2 cups of water.
Stir continuously until it becomes a sticky, combined dough.
Add the food coloring and glycerine. I divided my batch in half so I could make two different colors.
Allow it to cool down then take it out of the bowl and knead it vigorously for a couple of minutes until all of the stickiness has gone. This is apparently the most important part of the process. I was worried my hands were going to be green and blue for days after this step, but they color was already incorporated into the dough. Phew! If your dough is still a little sticky, you can add more flour.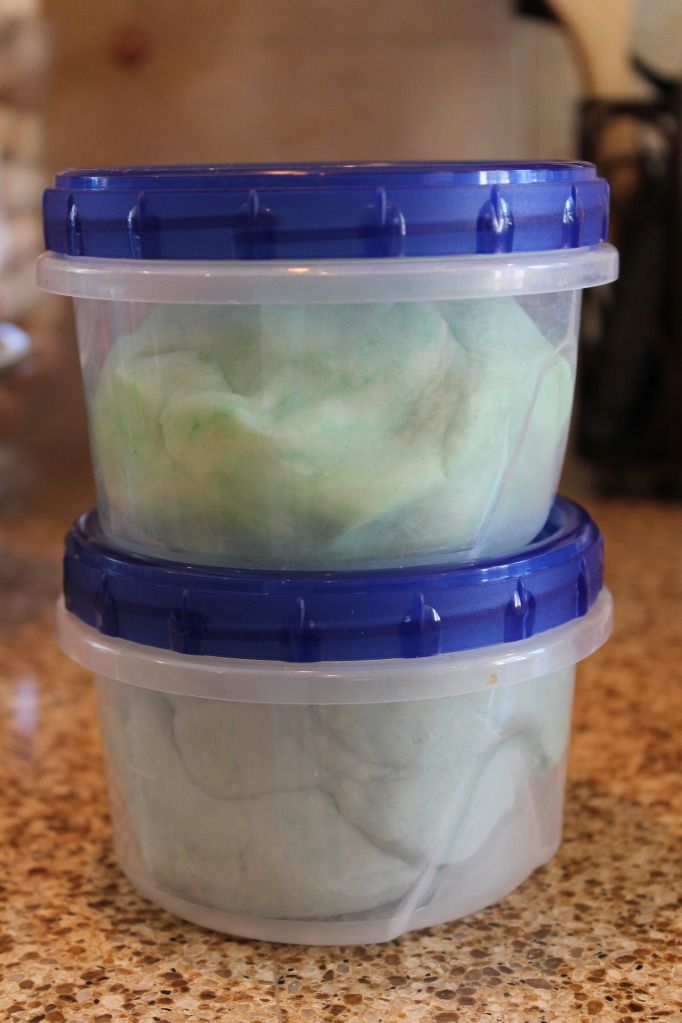 The little man loved this one! This was his first experience with play dough, so he was quite impressed with it. It was really soft and very close to the stuff you buy in stores. I was worried that making play dough would mean that it would only last for a few days, but it is supposed to last for 4 weeks. I'll be sure to update this post if it doesn't make it that long.
Update: This stuff lasted way longer than 4 weeks! As long as you remember to put it away each night, it won't dry out on you. We made that mistake a few times, but were able to add a little water to bring it back to life. This first batch lasted about 12 weeks and it probably would have lasted longer if we remembered to put it away each night.
Source:
The Imagination Tree – She has other play dough recipes and fun activities for the dough!
Related posts: