If you are looking for a new and fancy way to serve your mac and cheese, this is the way to go. Not only do they look fun, they taste great too!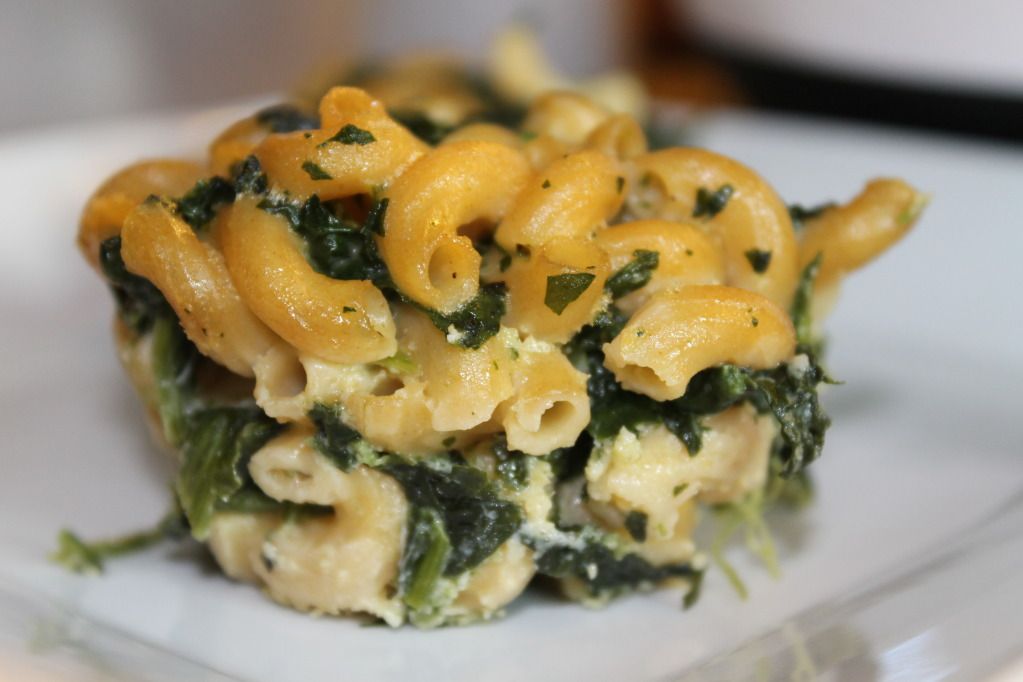 Ingredients:
4 cups cooked whole wheat or high fiber macaroni
1 tablespoon butter
1 tablespoon flour
1 cup skim milk
1 garlic clove, minced
3 oz sharp cheddar cheese, shredded
3 oz Gruyere cheese, shredded (I used another 3 oz of cheddar instead.)
1 egg
1 egg white
1 (10 oz) package of frozen chopped spinach, defrosted, drained and patted dry (or you could use 1 cup cooked fresh spinach)
Salt & pepper to taste
Directions:
1. Preheat the oven to 400. Lightly coat a 12-cup muffin tin with cooking spray and set aside.
2. In a small sauce pot, melt the butter over medium heat. Add the flour, mixing it into the butter until thick. Stir in the milk and garlic and raise the temp to bring the mixture to just under a boil. Add the cheese and whisk mixture together until thoroughly combined into a cheese sauce.
3. Remove the cheese sauce from heat and then mix in the egg and egg white until combined.
4. In a large bowl, combine the pasta, spinach, cheese sauce, salt and pepper and mix together. Spoon the mixture evenly into the cups of your prepared muffin tin.
5. Bake for 10-15 minutes until the tops slightly brown. Let cool 5 minutes or more before removing from muffin tin.
The hardest part of this recipe was getting the muffins out of the tin. After 5 minutes, they were still pretty hot and didn't come out in one piece. It took closer to 15 minutes, and by that point, they were pretty cool. Oh well. It's still a really tasty recipe at least.
Source:
Emily Bites
Related posts: