I did it! I've made it halfway through my 366 days of Pinterest! Wow! I honestly can't believe I'm halfway done already. Thank you to everyone that has been joining me in my journey. Your kind comments and words of encouragement have made this journey that much more exciting for me. To celebrate, I headed straight for the desserts on my Food board to see what kind of sweet treat I could whip up. Surprisingly, I landed on something that looked delicious but that I wouldn't have to feel guilty about later. Could it be true?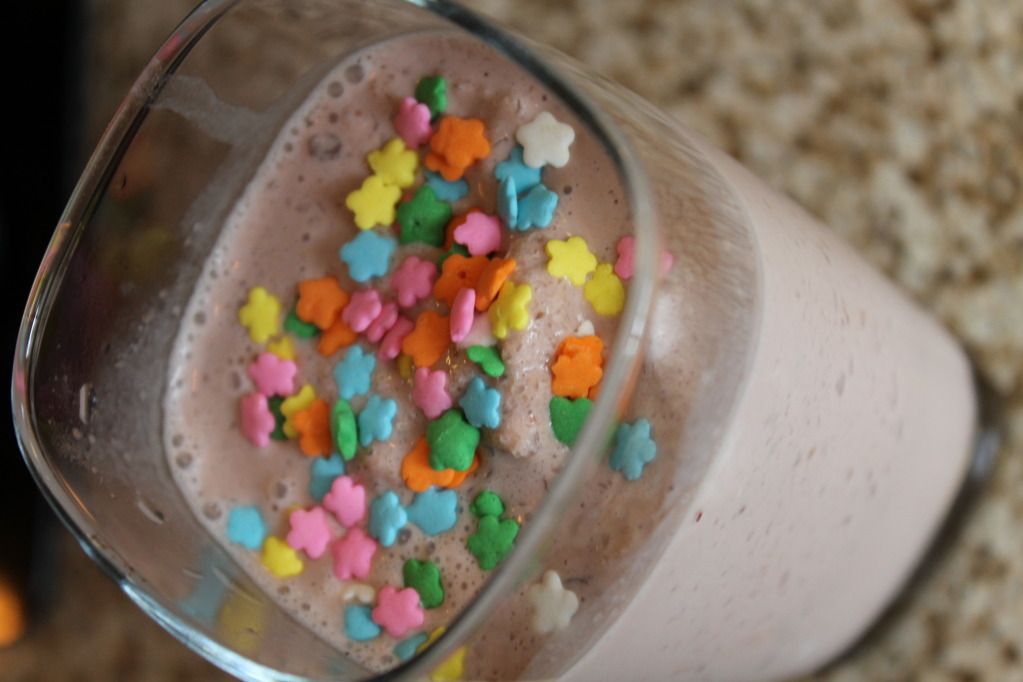 Ingredients:
1 tbsp. sugar-free French vanilla powdered creamer
1/2 cup light vanilla soy milk (I used almond milk.)
1 tbsp. Jell-O Sugar Free Fat Free Vanilla Instant pudding mix (I used chocolate because that's what I had on hand.)
1/4 cup fat-free vanilla ice cream
1 1/2 cups crushed ice or 8 – 12 ice cubes
1 tbsp. rainbow sprinkles, or more for optional topping
Optional Whipped Topping:
3 tbsp. Cool Whip Free, thawed
1/4 tsp. hot cocoa mix from a 25-calorie packet
Directions:
1. To make the optional whipped topping, combine Cool Whip with cocoa mix in a small bowl. Stir until completely mixed. Cover and refrigerate. I didn't make this because I didn't have any Cool Whip.
2. In a tall glass, combine powdered creamer with 2 tbsp. hot water and stir to dissolve. Add milk and pudding mix. Stir until mostly dissolved. Transfer contents of the glass to a blender.
3. Add ice cream and ice to the blender. Blend at high speed until thoroughly mixed.
4. Pour into the tall glass and gently stir in the sprinkles.
Woah! I was definitely impressed by this one. I was worried that using chocolate pudding might be a bad choice, but it absolutely wasn't. I think this would be just as delicious whether you use vanilla or chocolate. Don't skip the sprinkles either. They add a nice touch. I downed this shake in no time!
Source:
Hungry Girl
Related posts: