When I saw this pin for oatmeal flaxseed cookies, they were baking in my oven less than a week later. We all know oatmeal is good for you, but flaxseed is great for heart health too. So if you want a cookie you can feel a little better about eating, this is it.
Ingredients:
1 cup butter, room temperature
1 cup brown sugar
1/2 cup granulated sugar
2 large eggs
1 teaspoon vanilla extract
1 1/2 cups flour
1/4 teaspoon salt
1 teaspoon baking soda
2 1/2 cups oats
1/2 cup flaxseed
3/4 cups white chocolate chips (I used dark chocolate instead.)
1/2 cup dried cranberries
Directions:
1. Preheat the oven to 350°F.
2. In the bowl of an electric mixer, beat the butter until light and creamy. Mix in the brown and granulated sugars, cream for about 2 minutes. Beat in the eggs and vanilla extract and mix until well incorporated.
3. In a separate bowl, whisk together the flour, salt and baking soda. Add to the mixing bowl on low speed until just combined. Stir in the oats, flaxseed, chocolate chips and dried cranberries.
4. Using a small scooper, form rounded balls of dough about 2 tablespoons each and place on a parchment paper lined baking tray two inches apart. Bake for 15-17 minutes or until the cookies are a golden brown. Remove from oven and let it rest for about 1 minute on the tray. Transfer to a wire rack to cool completely.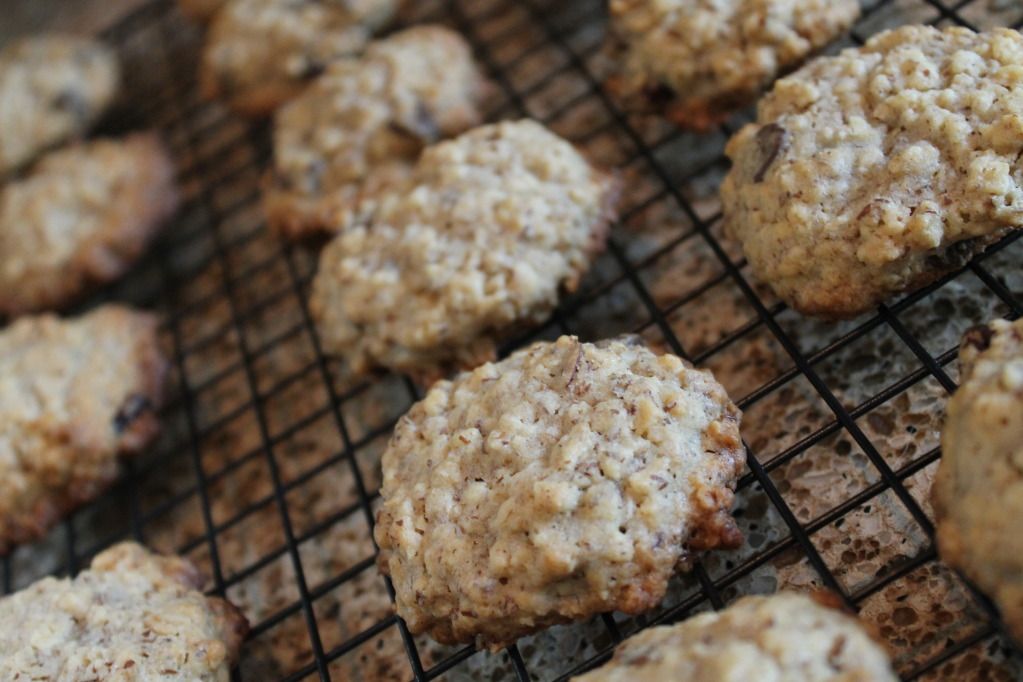 Mmmm mmmm mmmm! These were delicious! The oatmeal and flaxseed made me feel a little better about eating so many of them. I tried not to think about the two sticks of butter and all the sugar. The cookies were plenty sweet, so I think some of that sugar can be taken out. I can't imagine making these with white chocolate chips. They would be way too sweet. Dark chocolate is definitely the way to go. It's better for you too!
Source:
Kitchen Confidante
Related posts: