It has been so hot these past few days that the last thing I wanted to do was turn on the oven and heat up the house. It has even been too hot to grill. Even though we usually only think of it in the fall and winter, the Crock Pot is great for a hot summer day. I pulled up this recipe and decided to give it a shot.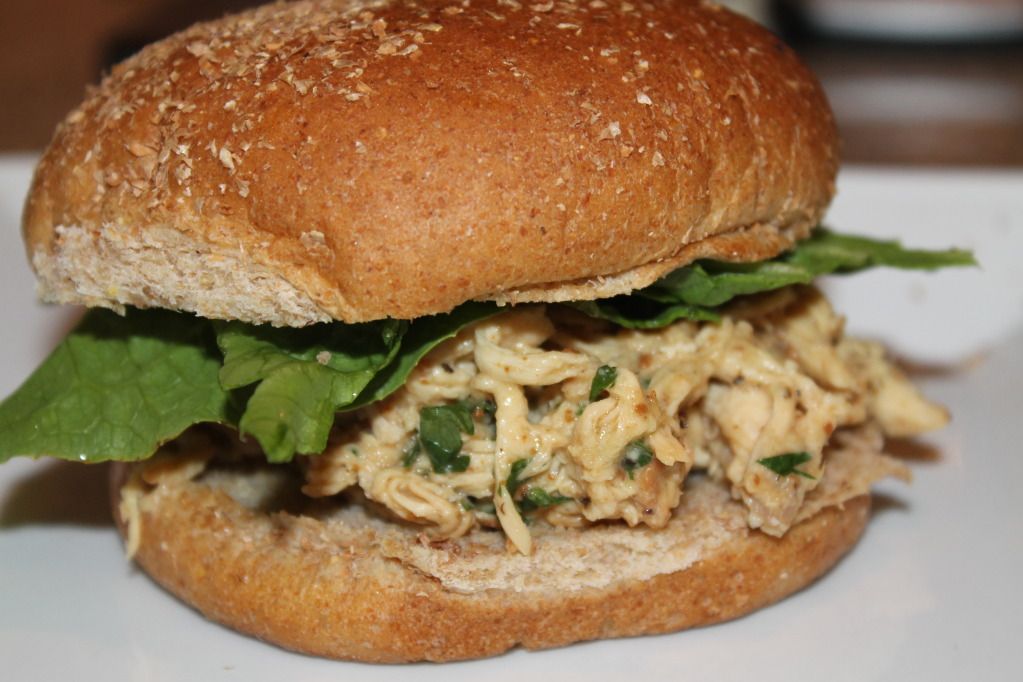 Ingredients:
2 pounds boneless skinless chicken thighs (I used chicken breasts instead.)
1 bottle of your favorite Caesar Dressing (I use Ken's Light Caesar) OR 1 (10 oz) can cream of chicken soup plus one packet Caesar Dressing mix
1/2 cup shredded Parmesan cheese
1/4 cup fresh chopped parsley
1/2 teaspoon ground pepper
2 cups shredded romaine lettuce
12 french hamburger buns or buns of your choice
Directions:
1.  Place chicken in a 3-4 quart slow cooker, cover and cook on low heat for 6-7 hours. Yes, you are supposed to cook the chicken with nothing else in there. I have had bad experiences cooking chicken with not enough liquid, so I didn't do this. I put the chicken in with the bottle of dressing. You can decide which route you would like to take.
2.  Remove chicken from cooker using a slotted spoon.  Place on a cutting board and pull chicken apart.
3.  Place chicken back in the cooker and pour dressing (or cream of chicken plus dressing packet) if you haven't yet, Parmesan cheese, parsley, and pepper over the top. Stir until mixed evenly. Cover and cook on high heat for 30-35 minutes or until mixture is hot.
4.  Spoon 1/4 cup mixture onto lettuce in each bun and serve.
These were a hit! The chicken was so moist and flavorful. If you have never used the Ken's Light Caesar dressing before, I would definitely recommend it. It was perfect for this recipe.
Source:
Sweet Treats & More
Related posts: