I was looking for a quick, but tasty dessert for tonight's dinner. Luckily, I found one! These Peanut Butter Cake Bars were the perfect treat.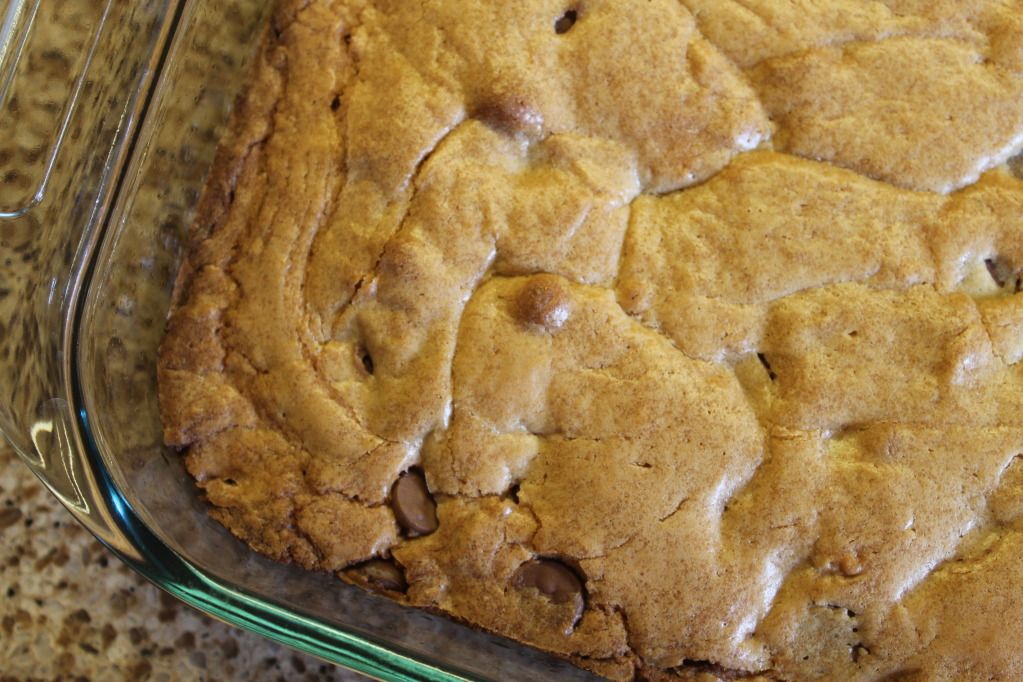 Ingredients:
2/3 cup butter, softened
2/3 cup peanut butter
1 cup sugar
1 cup packed brown sugar
4 eggs
2 teaspoons vanilla extract
2 cups all-purpose flour
2 teaspoons baking powder
1/2 teaspoon salt
1 package (11-1/2 ounces) milk chocolate chips
Directions:
1. In a large bowl, cream the butter, peanut butter, sugar and brown sugar. Add eggs, one at a time, beating well after each addition. Beat in vanilla. Combine the flour, baking powder and salt; gradually add to creamed mixture. Stir in chocolate chips.
2. Spread into a greased 13 x 9 baking pan. Bake at 350° for 45-50 minutes or until a toothpick inserted near the center comes out clean. Cool on a wire rack. Cut into bars.

Yum! I thought these would taste a little more peanut butter-y, but they were still really good. My husband said they reminded him of the Blondies at T.G.I.Fridays. I've never had one, so I can't confirm this, but I can confirm that they were tasty and definitely worth making.
Source:
Taste of Home
Related posts: