The story behind this pin is actually pretty funny. The picture features a white ceramic mug with a quote written on it in black marker. The description at the bottom says that to make your own, you decorate your mug with a Sharpie, then bake it at 350 degrees for 30 minutes. When you actually click on the link, you see the picture of the mug, but you learn that this mug was purchased from an Etsy shop. The blogger makes no mention of how to actually make it. That's not the point of her post at all. The poor blogger was bombarded with comments and questions that she wasn't prepared for. Mostly, it was people asking if this was really food safe. I'm sure she was baffled as to why so many pinners came to her blog asking these questions.
Regardless, I still decided to give it a try. It's so easy! Honestly, I never even thought of the food safety issue until I read those comments. Since my mouth isn't touching where the writing is, I'm not too concerned about it. Apparently there are food safe markers that you can use in case you are concerned.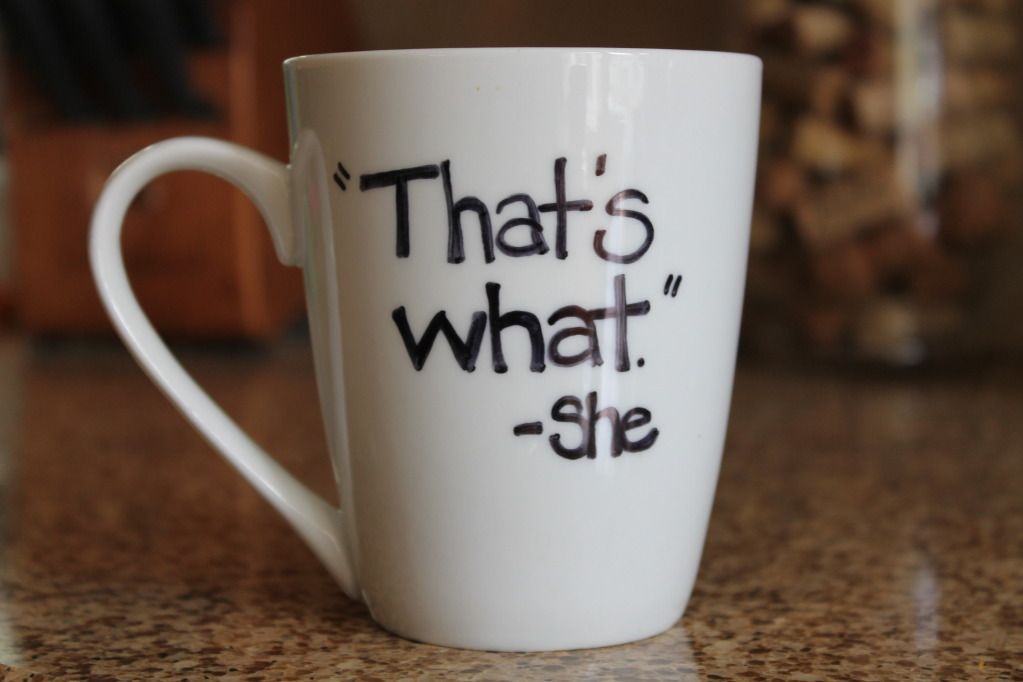 Materials:
mug
Sharpie
Directions:
Create a design or write a message on your mug. Put it in the oven for 30 minutes at 350 degrees.
I have not put this in the dishwasher, so I'm not sure if it is dishwasher safe. I'm going to stick with hand washing just to be safe. It definitely holds up to a good scrubbing though. I will be making more of these for sure!
As for the quote, that came from one of my Pinterest boards as well. I checked my "Need a Laugh?" board and found this gem. It appeared on a t-shirt in the pin. My fellow Office fans will appreciate it. It makes me chuckle.
Source:
Kyoko
Related posts: