If you are looking for a great summer salad to try, then this recipe is for you! Check out this Lemon Quinoa Cilantro Chickpea Salad. Yes, it's a mouthful to say, but it's delicious!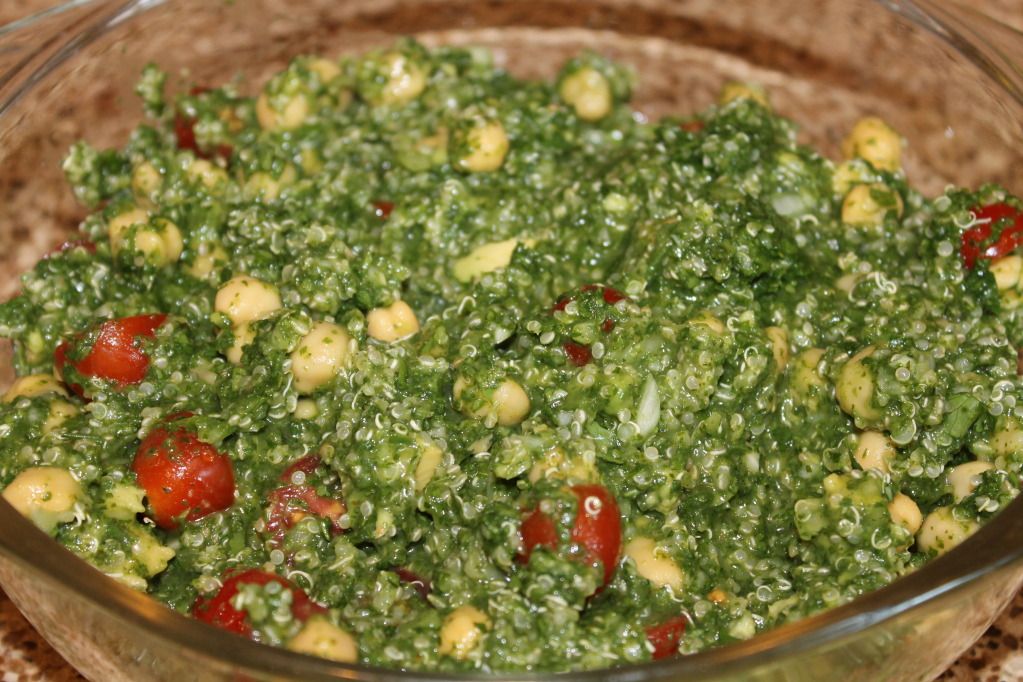 Ingredients:
Salad:
1/2 cup dry quinoa
2 cups vegetable broth
1 can garbanzo beans (drained and rinsed)
1 cup cherry tomatoes cut in half
2 avocados diced
2 cups spinach
1 bunch cilantro
1/4 cup onion
2 small cloves garlic
Dressing:
Juice of 2 lemons
Zest of 1 lemon
2 tsp. dijon mustard
2 tsp. olive oil
1 tsp. agave nectar (I used sugar)
1/2 tsp. cumin
dash of salt and pepper
Directions:
1. Make your quinoa first. Soak the quinoa in a pot in the veggie broth for about 15 minutes. After that, turn on the heat to medium high and let the quinoa come to a boil. Once it boils, reduce heat to medium/low and let quinoa simmer. Stir every so often, and cook quinoa for about 20-25 minutes just until the liquid absorbs. You don't want it completely dried out, so when there is just a TINY amount of liquid left in the pot, remove it from heat and put a lid on it. Set it aside, and make the rest of the salad.
2. In a food processor, add your spinach and cilantro. Process the greens until they are finely diced. You can do this by hand as well if you don't have a food processor. I recently got a new food processor because my old one burnt out a year ago. I was glad I had it for this recipe!
3. Add the greens to a bowl and set aside. Next, take your onion and garlic and finely dice those (I did this in the food processor too), and add to the greens mixture. Next, add your chickpeas and stir until everything is combined and coated. If the quinoa is cooled, you can add it to the chickpea mixture.
4. Make your dressing by whisking all the ingredients together. Pour over salad, and mix until combined. Add tomatoes and avocado and mix. Set in fridge for about 10-15 minutes before serving so the flavors set.
Talk about a refreshing summer salad! The cilantro and lemon juice make this perfect for a hot summer night. We enjoyed this on our own hot summer night last night. Summer has definitely arrived here in the Philly area!
Source:
The Diva Dish
Related posts: