I'll be honest, this wasn't at the top of my list of recipes to try. When I saw that I had most of the ingredients on hand, I figured it was an easy one to add to our menu for the week. Boy, was I surprised by this one!
Ingredients:
1/3 cup fat free milk
1/4 cup egg substitute
1 1/2 tablespoon taco seasoning, divided
1/4 teaspoon ground red pepper
1 (14 3/4 ounce) can cream-style corn
1 (8.5 ounce) box corn muffin mix (such as Jiffy)
1 (4 ounce) can chopped green chiles, drained
1 (10 ounce) can red enchilada sauce
2 cups shredded cooked chicken breast
3/4 cup shredded cheese (I used a Mexican four cheese blend)
cilantro for topping
Instructions:
Preheat oven to 400°.
Combine the first 7 ingredients (milk through green chiles), using just 1/2 tablespoon of the taco seasoning, in a large bowl, stirring just until moist. Pour mixture into a round pie plate coated with cooking spray.
Bake at 400° for 20-30 minutes. While corn is baking, toss the chicken in the remaining 1 tablespoon taco seasoning. When corn is done – it will be just barely set and golden brown – pierce entire surface liberally with a fork (it might stick a little bit to the fork). Pour enchilada sauce over top. Top with chicken; sprinkle with cheese. Bake at 400° for 15 minutes or until cheese melts. Remove from oven; let stand 5 minutes. Cut into 8 pieces; top each serving with cilantro and cheese.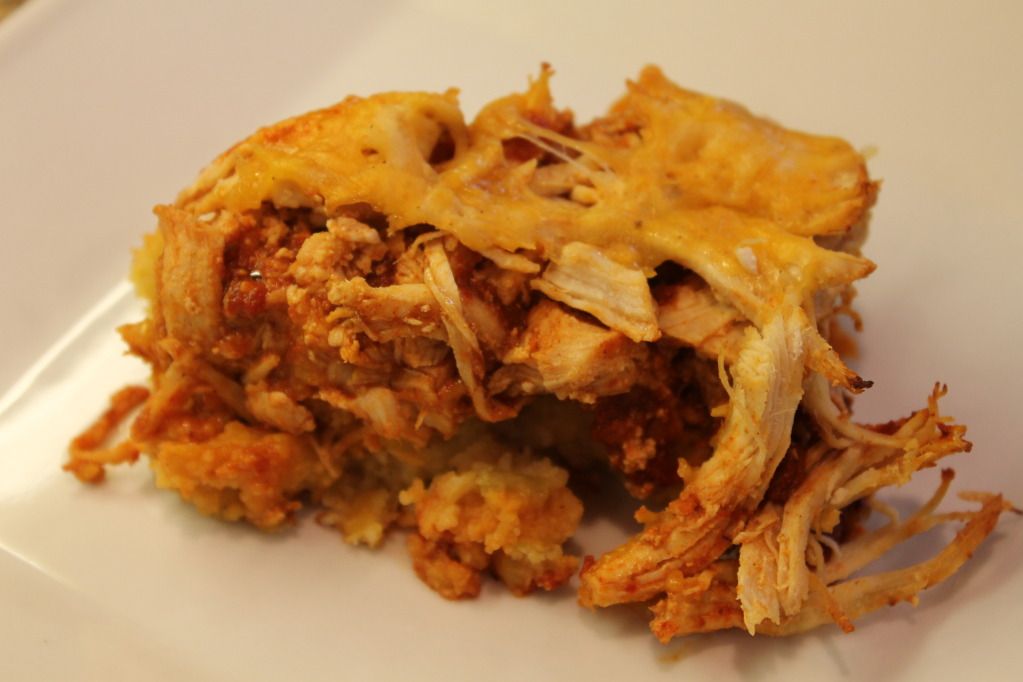 I love when a recipe that looks merely okay sneaks up and surprises me like this. This turned out to be one of the best recipes I have tried from Pinterest so far. The cornbread "crust" is amazing. Have you ever put a piece of cornbread at the bottom of your chili bowl? This is like that, but better! I would definitely recommend this recipe. It's a winner!
Source:
Pinch of Yum
Related posts: