I've had my eye on these babies for quite a while. I knew I wanted to make them for my mom for Mother's Day, so I was pumped when I finally got to make them over the weekend.
For those of you that aren't familiar with the Irish Carbomb, it is a delicious concoction featuring Guinness, Jameson, and Baileys. Each part of the cupcake includes a different Carbomb ingredient. These are definitely the most involved cupcakes I have ever made, but they were worth it!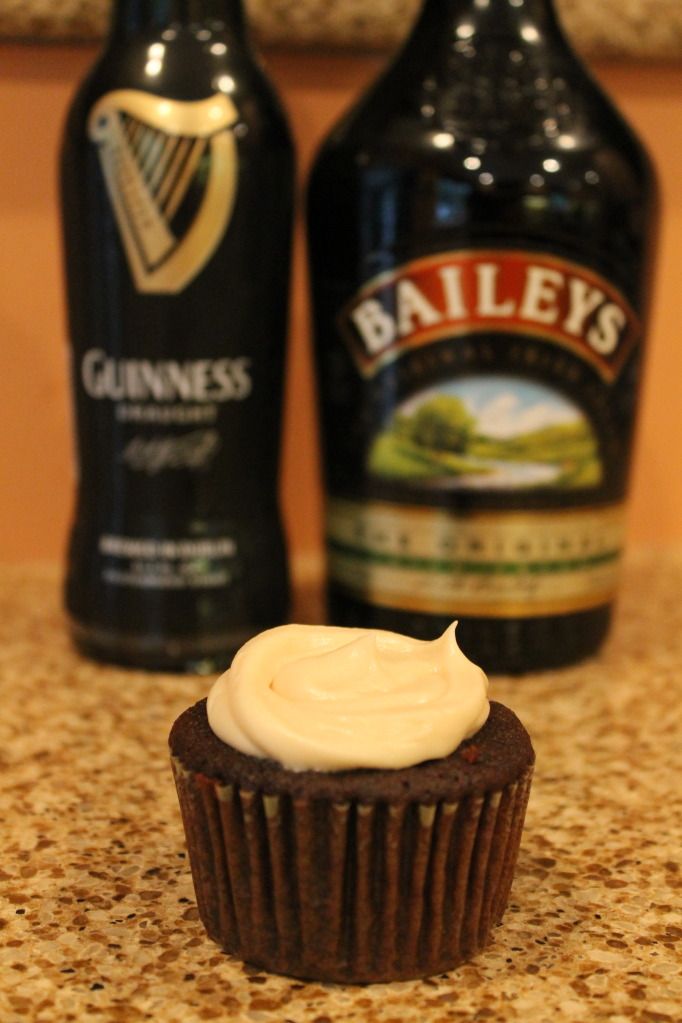 Cupcakes:
1 cup Guinness (or other stout beer)
1 cup (2 sticks) unsalted butter
3/4 cup unsweetened cocoa powder
2 cups all purpose flour
2 cups sugar
1 1/2 tsp baking soda
3/4 tsp salt
2 large eggs
2/3 cup sour cream
Ganache Filling:
8 oz bittersweet chocolate chips or coarsely chopped chocolate
2/3 cup half and half or heavy cream
2 Tbsp butter, room temperature
2 tsp Irish whiskey (optional – I actually left this out because I didn't have any on hand)
Baileys Icing:
3 to 4 cups confections sugar
1/2 cup (1 stick) unsalted butter, room temperature
6-8 Tbsp Baileys
Directions:
Cupcakes:
1. Preheat your oven to 350°, line cupcake pans and set aside.  In a large saucepan over medium heat bring the beer and butter to a simmer. Add the cocoa powder and whisk until mixture is smooth. Cool slightly.
2. In a medium bowl whisk together the flour, sugar, baking soda, and salt.
3. In the bowl of a stand mixer, or in a large bowl with an electric mixer, beat the eggs and sour cream until combined. Slowly add the stout-chocolate mixture to the egg mixture and beat just to combine.
4. Add the flour mixture and beat slowly until just combined. Divide the batter in the prepared cupcake pan, filling them 2/3 to 3/4 of the way full.
5. In the preheated oven bake the cupcakes for about 17 minutes (or until tester inserted into center comes out clean). Cool cupcakes completely on a wire rack. Meanwhile, make the ganache.
Ganache:
1. Put chocolate in medium heat safe bowl and set aside.
2. Over medium-low heat in a small saucepan, heat the cream/half-and-half until simmering then pour it over the chocolate. Let it sit for one minute and then stir until smooth. (My chocolate didn't completely melt so I popped it in the microwave for 10 seconds and that did the trick).
3. Add the butter and whiskey (if using) and stir until combined.
4. Let the ganache cool until thick but still soft enough to work with (you can refrigerate the mixture to speed up, but you will need to stir it every 10 minutes or so).
5. Meanwhile, cut the centers out of the completely cooled cupcakes, about 2/3 of the way deep. When all cupcakes are ready, fill them with the ganache. You can do so with a spoon and your finger, or by using a piping bag with a wide tip. I went the spoon and finger route.
Icing:
1. To prepare the icing, beat the butter in the bowl of an electric mixer (or with a hand mixer) until light and fluffy (about 5 minutes). While on medium speed add the powdered sugar a few tablespoons at a time.
2. When the frosting looks thick enough to spread, slowly add the Baileys and beat until combined. If the icing has thinned too much add a couple more tablespoons of powdered sugar.
3. Frost ganache filled cupcakes and enjoy!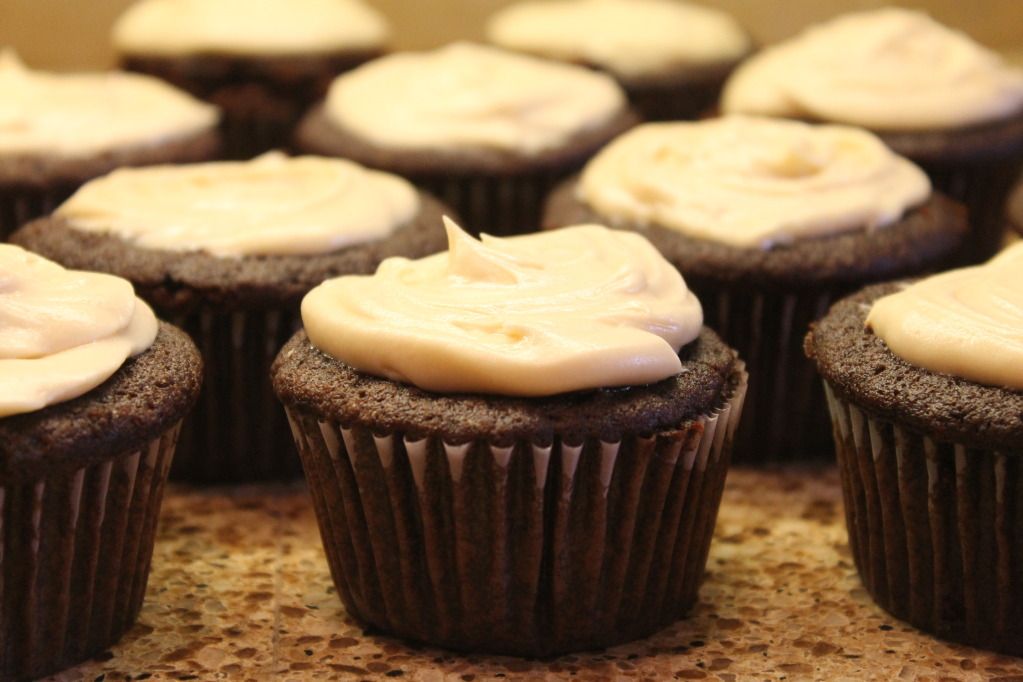 The Guinness isn't very strong in the cupcake so don't be nervous if you don't happen to like Guinness. You definitely get the most flavor from the Baileys, which was just fine with me!
Source:
See Brooke Cook
Related posts: