As I've mentioned before, I don't cook breakfast much in my house. Breakfast is my husband's specialty, so I've never made biscuits before. These looked too good to pass up though!
Ingredients:
4 cups all purpose flour
9 tsp baking powder
1/2 tsp baking soda
1/4 cup + 1 tbsp very cold vegetable shortening, cut in small cubes (I put mine in the freezer)
1/4 cup + 1 tbsp very cold salted butter, cut in small cubes
1 cup sharp cheddar cheese, diced small
1/4 tbsp chopped fresh chives
2 cups buttermilk
Directions
:
1. Preheat oven to 425 degrees F.
2. In a food processor, blend together flour, baking powder, and baking soda.
3. Pulse in vegetable shortening and butter. Do not over incorporate the shortening and butter into the flour. Similar to making a flaky pastry, small pieces of butter should be visible in the flour.
4. Transfer this mixture from the food processor into a large mixing bowl and make a well in the center. Toss in cheese and chives. Pour in buttermilk. Working very quickly with a wooden spoon, fold the dry mixture through the buttermilk, only until the flour disappears, then stop immediately.
5. Drop the sticky dough onto a well floured counter top or bread board. Sprinkle the top of the dough with additional flour as well as flouring your hands to handle the dough. The dough is soft enough to pat it out gently with floured hands to a thickness of about 1 & 1/2 inches. Using a sharp 3 inch or larger biscuit cutter cut the biscuits out an place them, almost touching, on a parchment paper lined baking sheet (a pizza cutter works too because that's all I had).
6. Bake in the preheated oven for about 20 minutes or until the tops of the biscuits are evenly golden brown.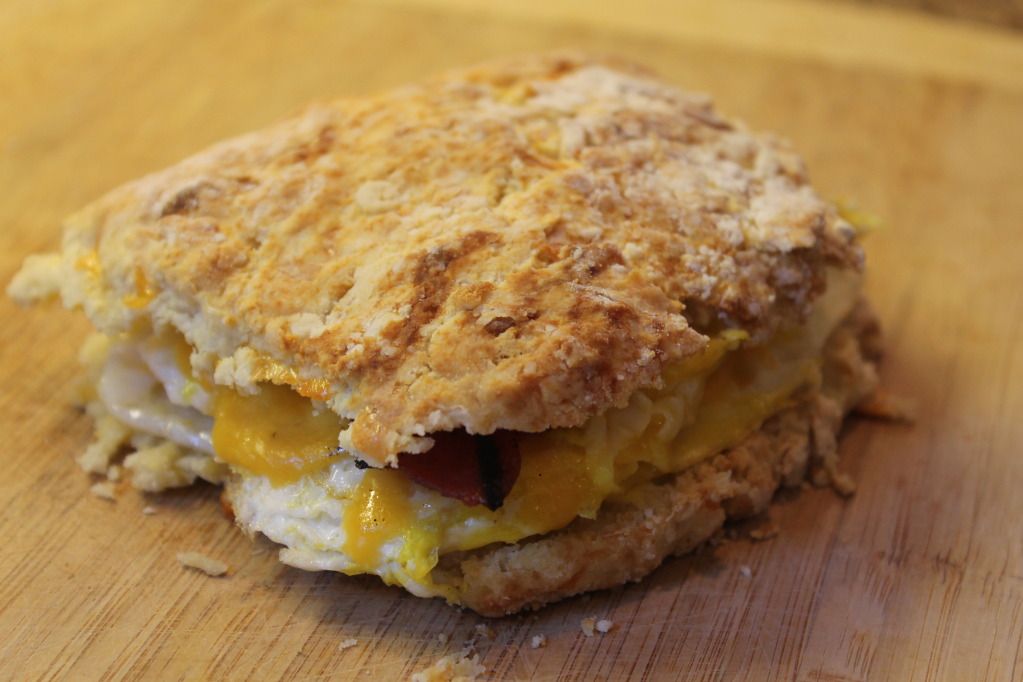 This recipe makes about 10 three inch biscuits so be sure to cut it in half if you don't want that many (like I should have). These were great though! We used them for my husband's delicious egg sandwiches and they were a hit.
Source:
Related posts: