To celebrate my 100th post, I decided to treat myself. I have been taking it easy on the ridiculously dangerous Pinterest desserts for a while, so I decided it was time to jump back in. I deserve to celebrate, right?
My favorite Pinterest recipe so far is still the Chocolate Chip Cookie Dough Brownies. My weakness is cookie dough, so there's no surprise there. When I was trying to decide what to make for today, I knew it was going to have to involve cookie dough. Meet the Chocolate Chip Cookie Dough Peanut Butter Cup.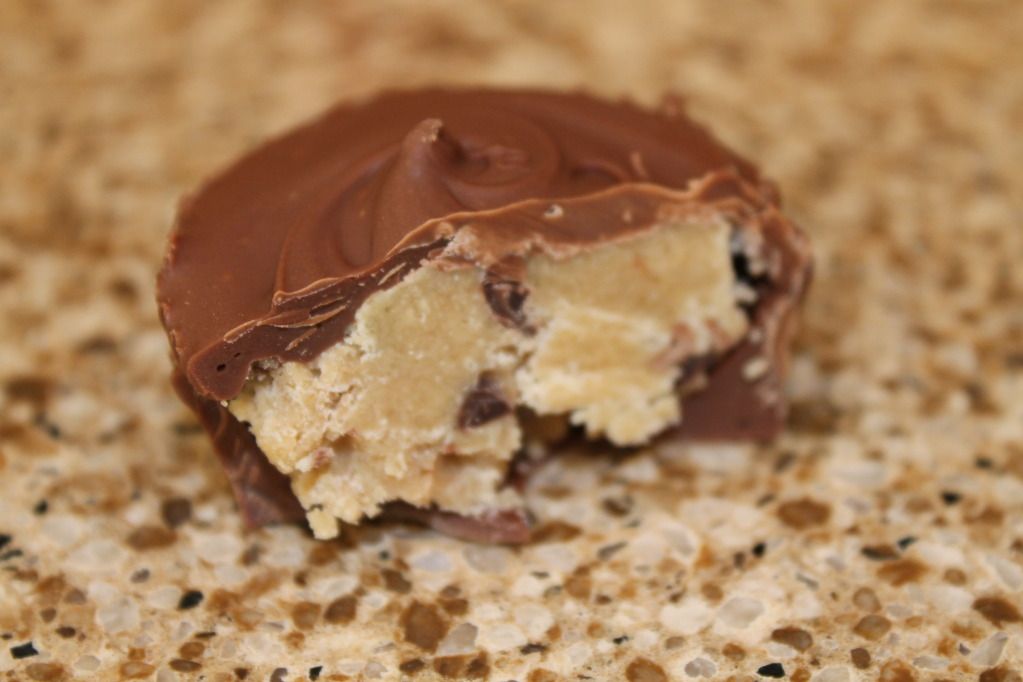 Did you just start drooling? I did.
Ingredients:
2 1/2 cups milk chocolate chips
1/2 cup unsalted butter
1/3 cup packed brown sugar
1 teaspoon vanilla extract
1/4 cup creamy peanut butter
3/4 cup powdered sugar
2 tablespoons all-purpose flour
1/4 teaspoon salt
1/2 cup mini chocolate chips
Directions:
1. In a small saucepan, heat butter until melted. Whisk in brown sugar until dissolved, then let it bubble for 1-2 minutes. Remove from heat and whisk in peanut butter. The mixture will be liquidy. Whisk in vanilla. Let sit and cool completely, about 20 minutes.
2. Line a mini muffin tin with with liners. (I used a regular muffin tin, so mine were larger.) Melt 1 1/4 cups of chocolate chips. I do mine in the microwave, heating on half power for 1 minute, stirring, then 20 seconds, and stirring until melted. Drop 1/2-1 teaspoon of chocolate into each liner, then use a pastry brush to brush chocolate up the sides of the liner. Place in the freezer for 20 minutes. By this point the butter + sugar mix should be cool. Whisk in powdered sugar, salt and flour, until combine and few lumps remain. Fold in mini chocolate chips. The dough will be wet, but pop it in the fridge for 15 minutes to harden.
3. Remove muffin tin and cookie dough, then place 1 teaspoon of cookie dough into the chocolate cups. I pushed the dough into the little cup formed in the chocolate. Place back in the freezer for 10-15 minutes. Melt the remaining chocolate chips, then cover each cookie dough top with chocolate, smoothing with a spoon. Freeze again for 15-20 minutes. These are fine out in room temperature for a few hours (they may soften a bit) but they are best stored in the fridge.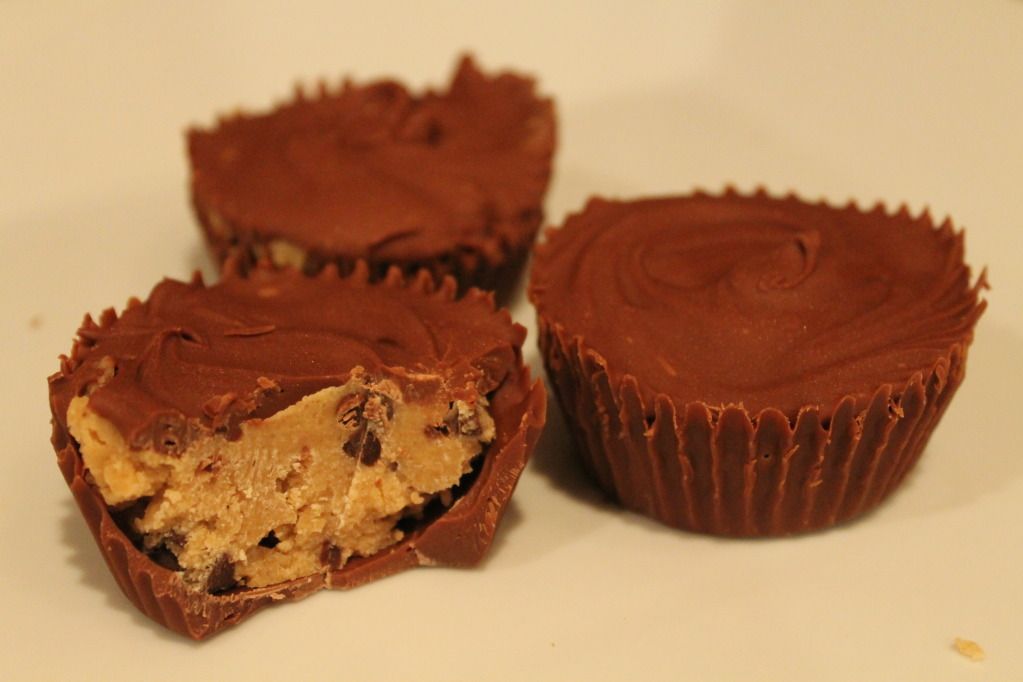 My brother told me that I should make something magical for my 100th post. This definitely qualifies! But really, with a name like that, did you expect them to be bad?
Source:
How Sweet It Is
Related posts: