I'm sure you've seen at least one copycat recipe floating around Pinterest. I have quite a few pinned, but this was my first attempt at one. This is Buca di Beppo's Spicy Chicken Rigatoni. Ironically, I've never even ordered this at Buca. I repinned this from my sister who had tried it and raved about it. I knew I had to give it a try.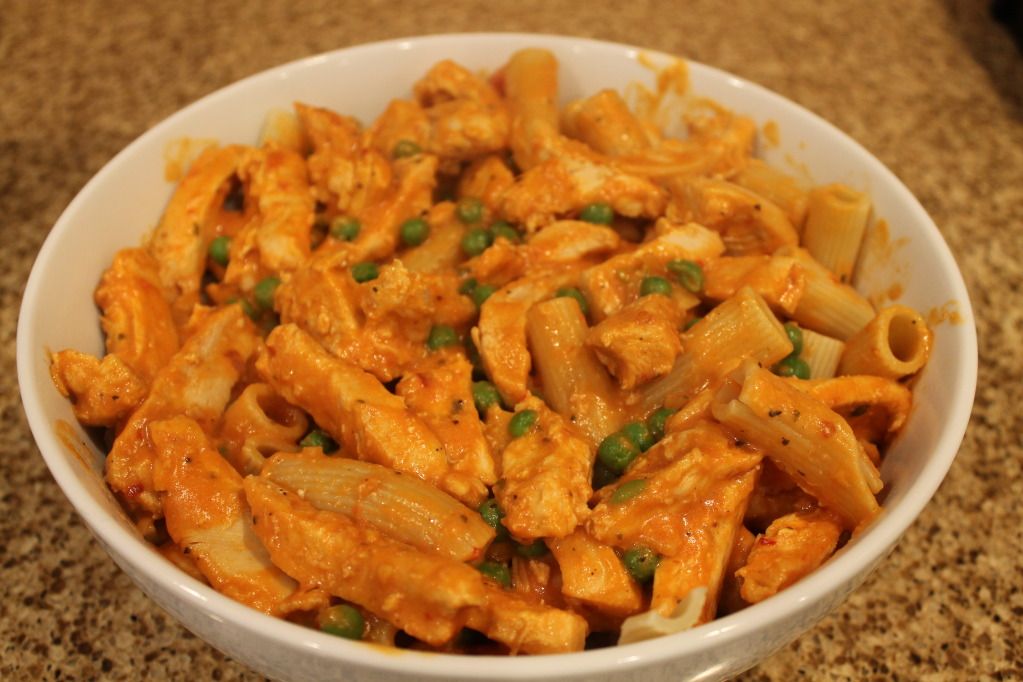 Ingredients:
1/4 cup oil
1/2 Tbs crushed red pepper
1/8 tsp salt
1/8 tsp ground black pepper
1 Tbs chopped garlic
6 oz chicken, sliced
3/4 cup. Marinara sauce
1/2 cup Alfredo sauce
2 tsp butter
1/4 cup peas
1 lb Rigatoni pasta, cooked according to package directions
additional 1/2 Tbs crushed red pepper (for garnish)
Directions:
1. In a sauté pan, heat oil over medium heat. Add crushed red pepper, salt, black pepper and garlic and sauté just long enough for garlic to caramelize and red pepper to release flavor into the oil. Add sliced chicken and sauté briefly to coat in spices and garlic.
2. Add Marinara Sauce first and then Alfredo Sauce and bring to a simmer. Cook until sauce thickens slightly and chicken has reached an internal temperature of 165°. Turn off flame, add butter and peas and incorporate into sauce.
3. Toss the cooked pasta with the sauce. Place pasta and sauce in pasta bowl, reserving the majority of the chicken to be placed on top of the pasta. Garnish with crushed red pepper and serve.
Yum! Unfortunately, I can't compare this to Buca's Spicy Chicken Rigatoni, but I can tell you that it was quite delicious. We didn't put the extra crushed red pepper on top because the amount that was in the sauce was enough for us. It's spicy enough on it's own!
Source:
Tastebook
Related posts: