I first fell in love with the braided bread idea when I discovered the Broccoli Cheddar Chicken Braid. If you haven't made that yet, you are missing out! When I saw this pin for a different braided bread, I quickly put it at the top of my list of recipes to try. This is the Braided Spaghetti Bread.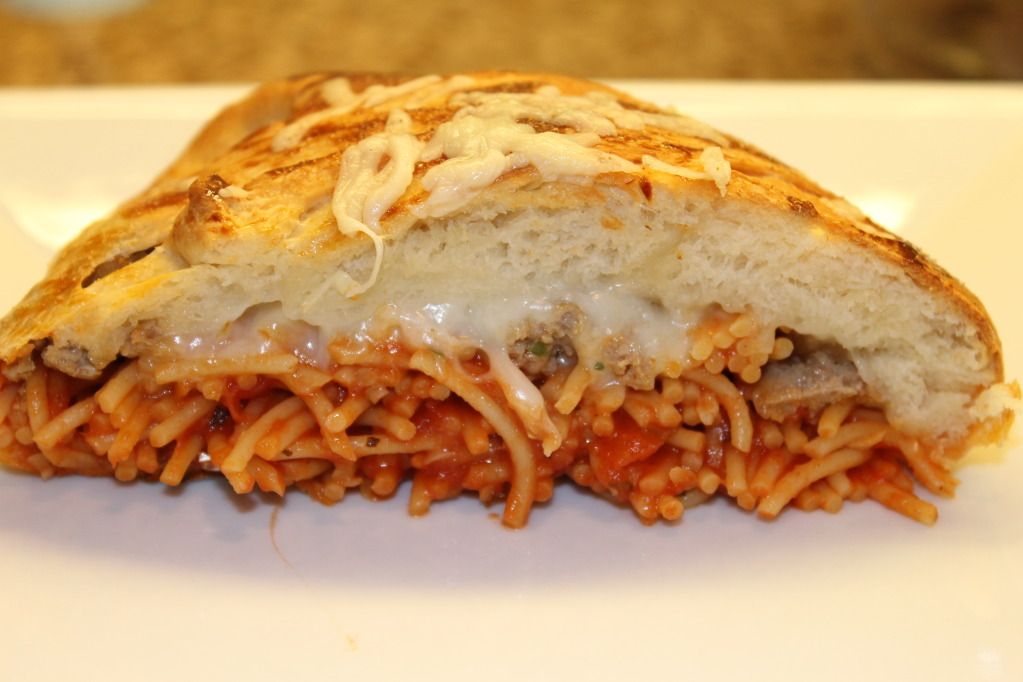 It looks good, right?! It takes spaghetti night and puts all the components into one delicious and beautiful braided loaf of bread.
Ingredients:
1 container bread dough or pizza dough (I used a container of Pillsbury thin crust pizza dough.)
6 ounces spaghetti, cooked
1 cup thick spaghetti sauce
8 ounces mozzarella cheese, cut into 1/2-inch cubes (I used shredded mozzarella.)
Ground turkey (This wasn't in the original recipe, but I decided to add this for a little protein. You could also use beef or sausage.)
1 egg white, beaten
Parmesan cheese
Parsley flakes
Directions:
1. Spray counter lightly with non-stick cooking spray. Roll dough into a 12×16-inch rectangle.
TIP: It can be really hard to transfer a fully assembled bread braid from the counter to a baking sheet. I recommend assembling it on foil so you can easily lift it using the foil and put it right on the baking sheet. Just make sure you spray the foil before rolling out your dough.
2. Cook spaghetti according to package instructions. Drain and let cool slightly. Add sauce.
3. Place spaghetti lengthwise down the center of the dough. If you are adding any meat, put that on next. Top with mozzarella cheese. Make cuts 1 1/2-inches apart on long sides of dough to within 1/2-inch of the filling.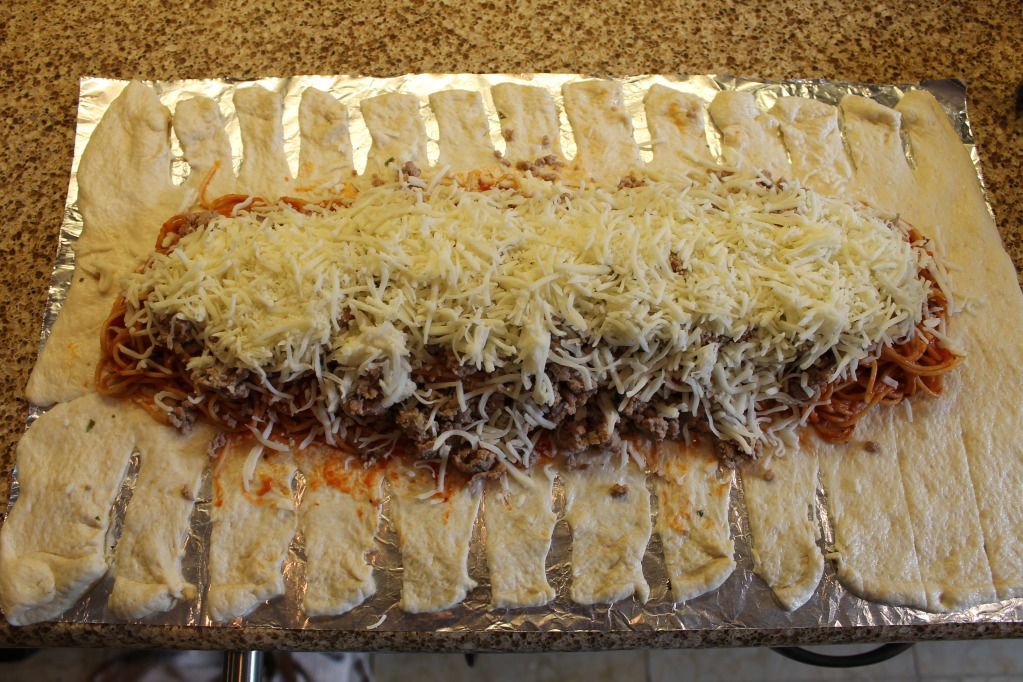 4. Begin the braid by folding the top and bottom strips toward the filling. Then braid strips left over right. Finish by pulling the last strip over and tucking under the braid.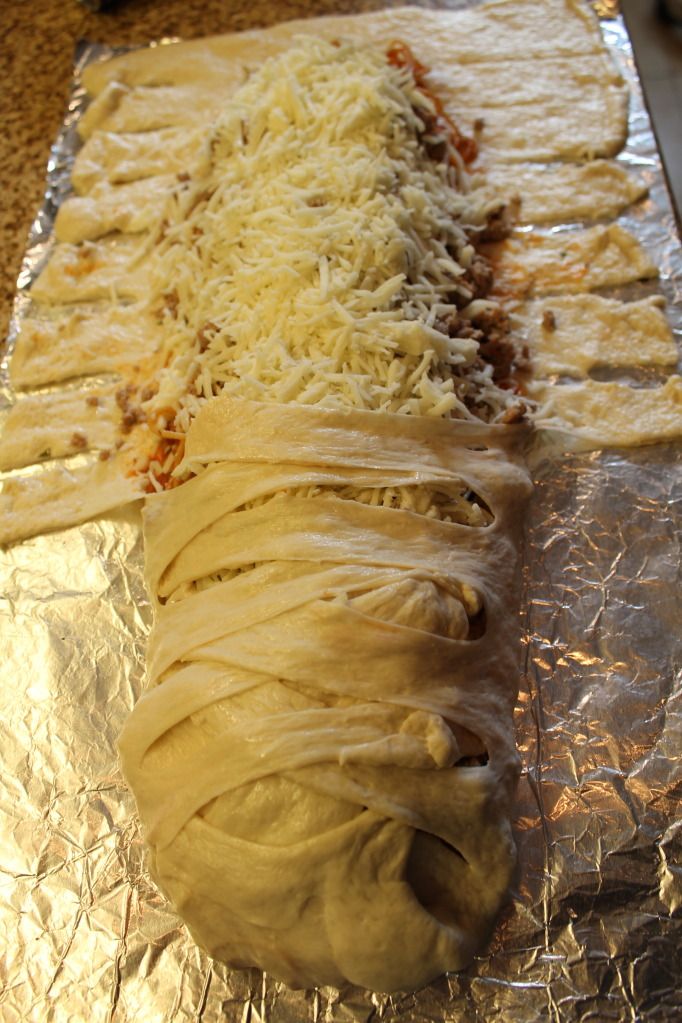 5. Lift braid and place on a large baking sheet. Brush with egg white and sprinkle with Parmesan cheese and parsley.
6. Bake at 350°F for 30-35 minutes or until golden brown. Cool slightly and slice to serve.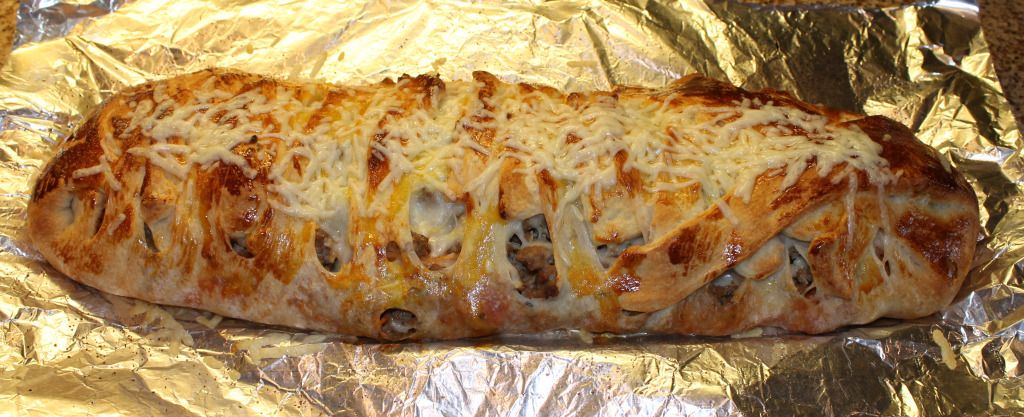 How can you go wrong with a recipe like this? If you are getting tired of monotony of spaghetti night, this is such a fun way to mix it up!
Source:
Rhodes Bake-N-Serv Blog
Related posts: