Those of you that know me, know that if I see anything on Pinterest with "buffalo chicken" in the title, it will be repinned by me. If I am out to eat and there is something on the menu with buffalo chicken in it, I'm probably going to order it. I love buffalo chicken! I have also been cooking with quinoa a lot recently. If you've never cooked with quinoa before, you should definitely give it a try. It's a really healthy grain that's full of protein. It doesn't have much taste on it's own, but it picks up on the flavors you cook it with. I knew that combining quinoa with buffalo sauce would be a winning combination!
Ingredients:
1-1/4 cups quinoa, rinsed and drained
1 chicken breast
garlic powder
onion powder
salt & pepper
2 tablespoons flour
1-1/2 cups milk, divided
2 green onions, sliced
1/4 cup + 2 Tablespoons Texas Pete's Buffalo Wing Sauce (Any buffalo sauce will work but this is my favorite)
1-1/2 cups shredded sharp cheddar cheese
1/4 cup chevre (goat cheese), crumbled
Directions:
1. Preheat broiler. Cook quinoa according to package directions and set aside. Season chicken breast on both sides with garlic powder, onion powder, salt and pepper, and cook in a non-stick sprayed skillet over medium heat until cooked all the way through. Chop into bite-sized pieces and set aside.
2. Whisk together flour and 1/2 cup milk in a separate saucepan over medium heat. Pour in remaining milk, and green onions. Switch to a spatula and bring the mixture to a boil, stirring constantly, then cook for one minute while boiling.
3. Remove the pan from the heat then add in buffalo sauce and cheddar cheese. Stir until the cheese is completely melted then add in cooked quinoa and chicken, and stir to combine.
4. Pour into a non-stick sprayed casserole dish and top with chevre (I left the chevre out). Broil for 5-7 minutes, or until the cheese is golden brown and sauce is bubbly.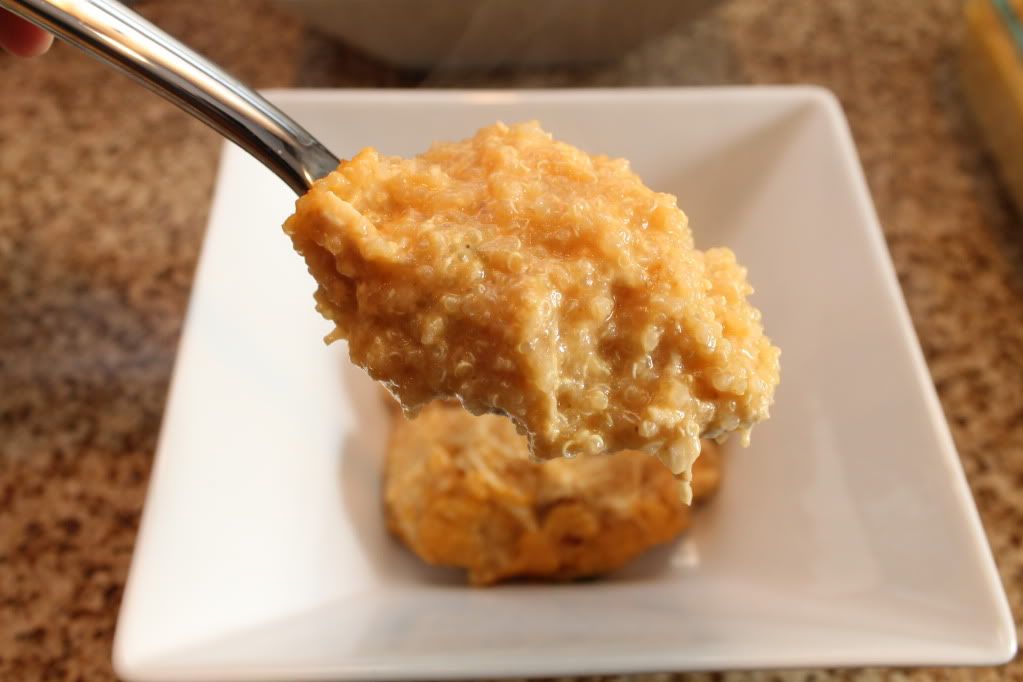 This was a hit! The quinoa really gives this dish a nice texture. I love this new twist on mac and cheese. I will be making this again for sure!
Source:
Iowa Girl Eats – Check out her other awesome recipes while you are there!
  Pin It
Related posts: