After realizing how easy it was to create fun and stylish headbands, I was on the lookout for more on Pinterest. I am a big fan of the first headband I made. When I saw this one, I knew I would soon have another cute one to add to the collection. This one was just as easy to make too.
You will need:
– t-shirt
– hot glue gun
Headband Directions:
1. Cut a 1.5 inch strip from the bottom of the shirt. I dismantled my fringe scarf disaster and used that fabric for this project.
2. Cut one of the seams. The length of your strip should be equal to the circumference of your head minus 2 inches. That way the band won't be loose when it's worn.
3. Fold in half lengthwise and pin in place. The right side of the fabric should be facing inward. Sew along the edge (or hand stitch if you are like me and don't have a sewing machine). Cut away any excess material.
4. Fold the headband right side out.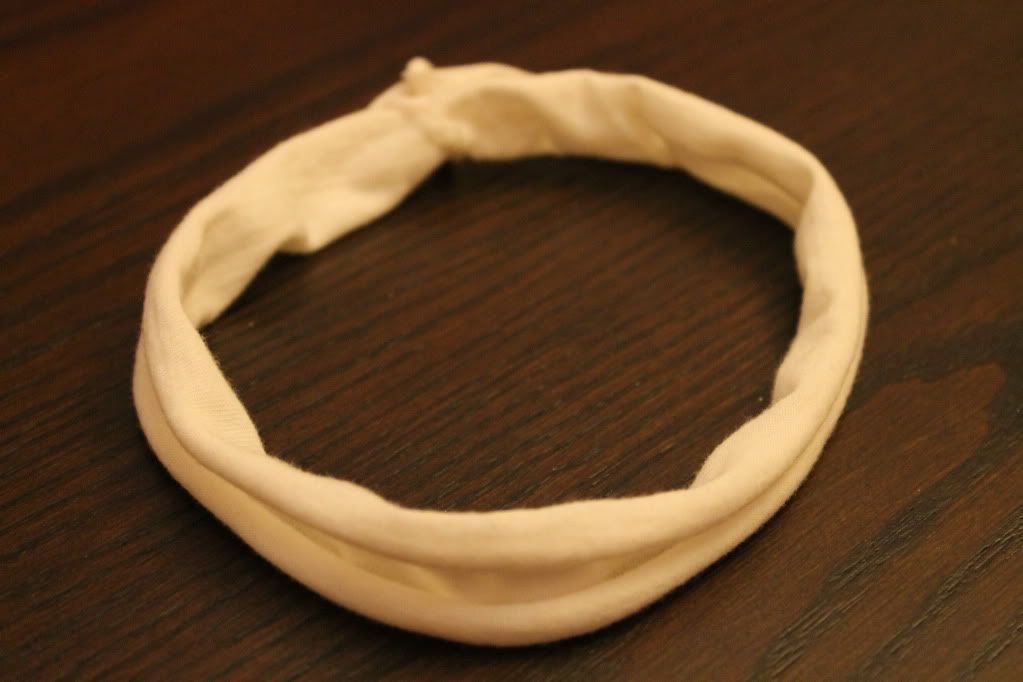 Flower Directions:
1. Take another piece of fabric 3 inches wide by 24 inches long. You can modify these dimensions to change the size of the flower you end up with. Twist it really tight.
2. Fold it in half and it will twist together on its own.
3. Hot glue the unfolded end under to create the center of the flower. Continue wrapping around until you get to the folded end, gluing periodically.
4. After it has dried, sew your flower onto your headband at the seam.
As you can see, I thought I was going to mix it up and put a blue flower on my white headband but then I changed my mind. The monochromatic look worked better. I think the blue flower would make an excellent addition to another t-shirt scarf though!
Source:
Craft Snob – She has tons of fun craft ideas on her blog. Check her out!
  Pin It
Related posts: