I'll be honest. The first time I saw this come up on my Pinterest feed, I didn't repin it. They looked good, but little cream pies like these have never really been my first choice for dessert. A few days later, a friend of mine, Jeannine, raved about this pin on Facebook. I'm pretty sure she said, "Go make these NOW!" I decided that warranted a repin.
These weren't the easiest cream pies to make, and mine definitely didn't turn out as beautiful as the ones in the pin, but they were devoured by friends and family. That's really all that matters, right?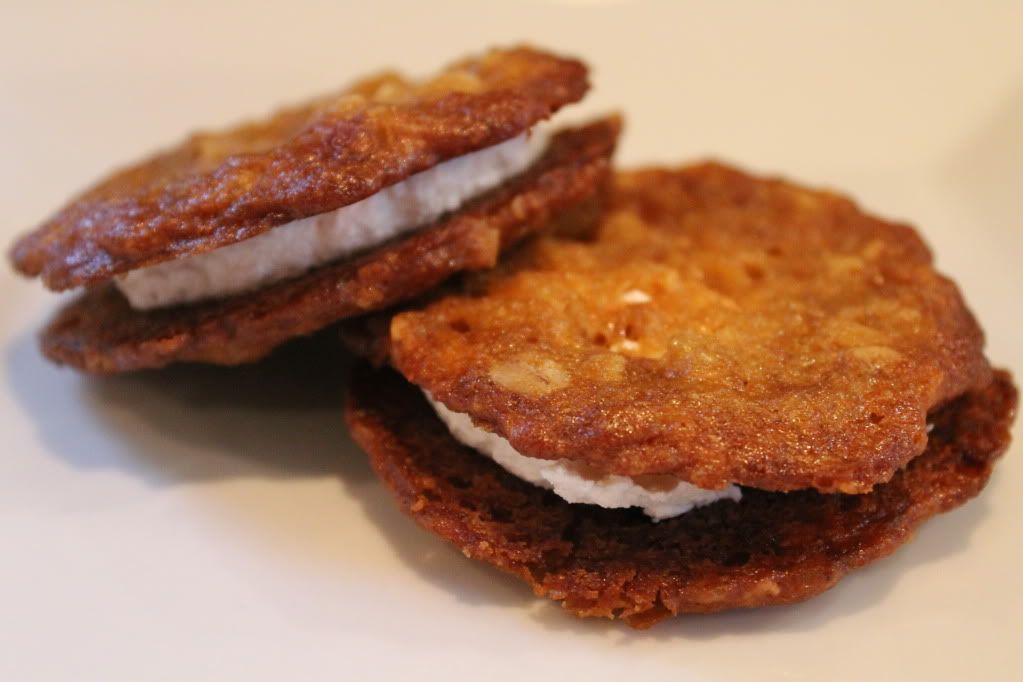 Here's how to make them:
Cookie:
1 cup butter
¾ cup dark brown sugar
½ cup sugar
1 tbsp molasses
1 tsp vanilla
2 eggs
1 ½ cups flour
½ tsp salt
1 tsp baking soda
⅛ tsp cinnamon
1 ½ cups quick oats
Cream Filling:
2 tsp very hot water
¼ tsp salt
1 (7 oz.) jar marshmallow cream
½ cup shortening
⅓ cup powdered sugar
½ tsp vanilla
Directions:
1. Preheat the oven to 350° and line a cookie sheet with parchment paper.
2. With a mixer, cream the butter, sugars, molasses, vanilla, and eggs.
3. In a medium bowl, combine the flour, salt, baking soda, and cinnamon.
4. Add the dry ingredients to the creamed mixture and stir to combine; mix in the oats.
5. Here is where I ran into trouble. Drop tablespoon sized scoops onto the cookie sheet and bake for 10-12 minutes, until just starting to brown around the edges. Be careful not to over-bake them; they will look moist. Mine started over-baking in about 6 minutes, so keep a close eye on yours. Mine also flattened like pancakes. I'm no baker so I'm not sure what makes cookies rise, but mine didn't have it.
6. While the cookies are baking, in a small bowl, dissolve the salt in the hot water and allow to cool to room temperature.
7. Combine the marshmallow cream, shortening, powdered sugar, and vanilla and mix on high until fluffy.
8. Add the salt water and mix well.
9. Spread the filling onto the flat side of one cookie and top with another.
Like I said, desserts like this aren't really my weakness. I'm more of a fan of the cookie dough brownies. I didn't even want to share those. But if cream pies are your thing, you will love these!
Source:
Kids in the Sink – Oatmeal Cream Pies
  Pin It
Related posts: