Today's pin took me right back to my childhood. My mom would always make chocolate covered bananas for us when we were little. Cut a banana in half, stick a popsicle stick in the end, coat it in chocolate, and pop it in the freezer. Yum!
If you have never had a frozen banana before, you are really missing out. I'm not sure what happens to the banana when it freezes, but it turns into something that resembles ice cream. If you are ever in Ocean City, NJ for the summer, check out Bashful Banana and you will know what I mean. It's amazing stuff.
You will need:
2 bananas
1/3 cup of chocolate chips
1/3 cup peanut butter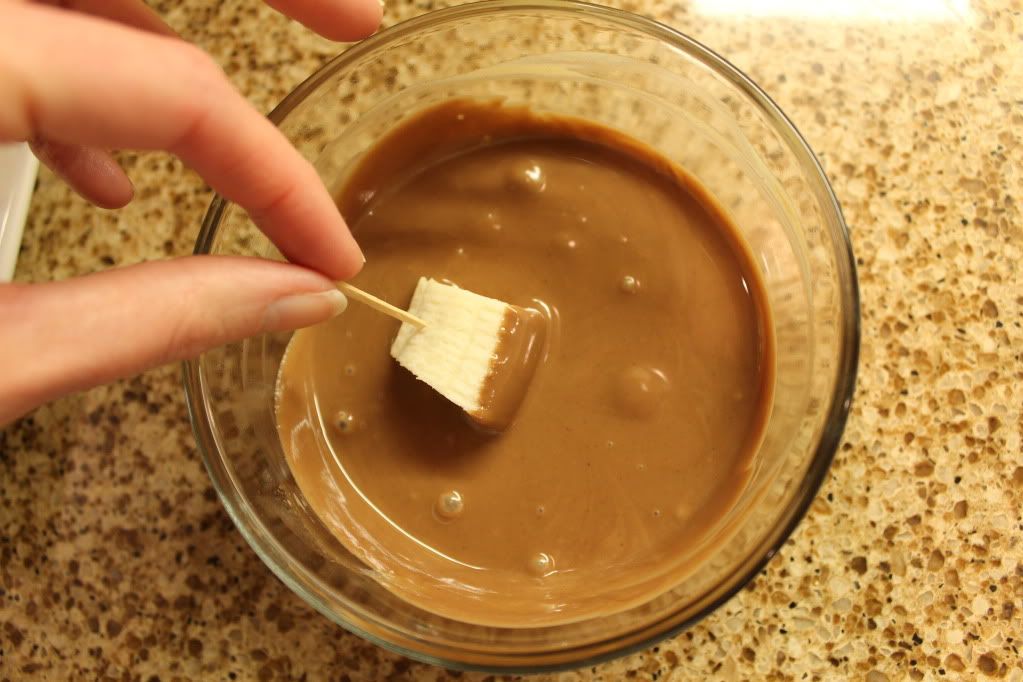 1. Cut the bananas into bite size pieces.
2. Melt the chocolate chips and peanut butter together in the microwave, stirring every 15 seconds until completely melted.
3. Coat the banana pieces with the chocolate/peanut butter mixture and set them on wax paper. I lined a plastic container with the wax paper so the whole thing could just go right into the freezer.
4. Place the pieces in the freezer overnight. Once they are frozen you can transfer them to a plastic bag instead.
Like the Chocolate Peanut Butter & Oat Bars, this recipe is so versatile. The original pin actually suggests coating the pieces in coconut flakes, but I left those off because I'm not a fan of coconut. You could also top these with crushed nuts or sprinkles. I'm definitely making my next batch using Nutella instead of peanut butter. The possibilities are endless!
Source:
(never home)maker – Frozen Banana Bites
Related posts: