I have seen the bread braid applied to a few different recipes floating around Pinterest. I decided to give one a try last night.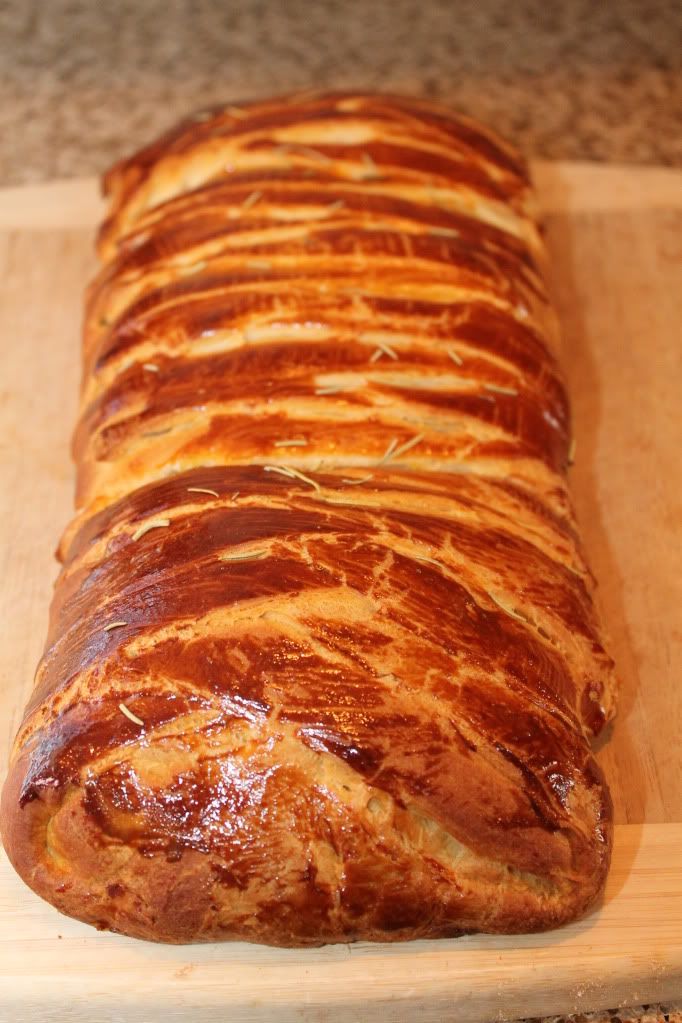 This is the Broccoli Cheddar Chicken Braid.
Doesn't it look fancy? To reference one of our favorite shows, Chopped, my husband told me that I won extra points this round for presentation. Score!
As it turns out, it tasted good too. I have made little chicken pockets with similar ingredients in the past, but this method looks way cooler.
Ingredients:
2 cans Pillsbury Crescent Rolls
2 cups shredded chicken, cooked
2 cups cheddar cheese
2 cups frozen broccoli; steamed and chopped
1/2 cup light mayonnaise (I have also used cream cheese in similar recipes)
1 egg yolk
fresh rosemary
Directions:
1. Preheat oven to 375.
2. On parchment paper, spread both cans of crescents and lay them next to each other.
3. Press each of the seams to form a single layer of dough.
4. In a large bowl, combine chicken, cheese, broccoli and mayonnaise.
5. Spread mixture over the center of the dough evenly to create a log.
6. Using a sharp knife, cut horizontal strips 1 inch apart down each side of the dough.
7. Fold the dough strips over the top of the chicken mixture, alternating left and right to create a braid.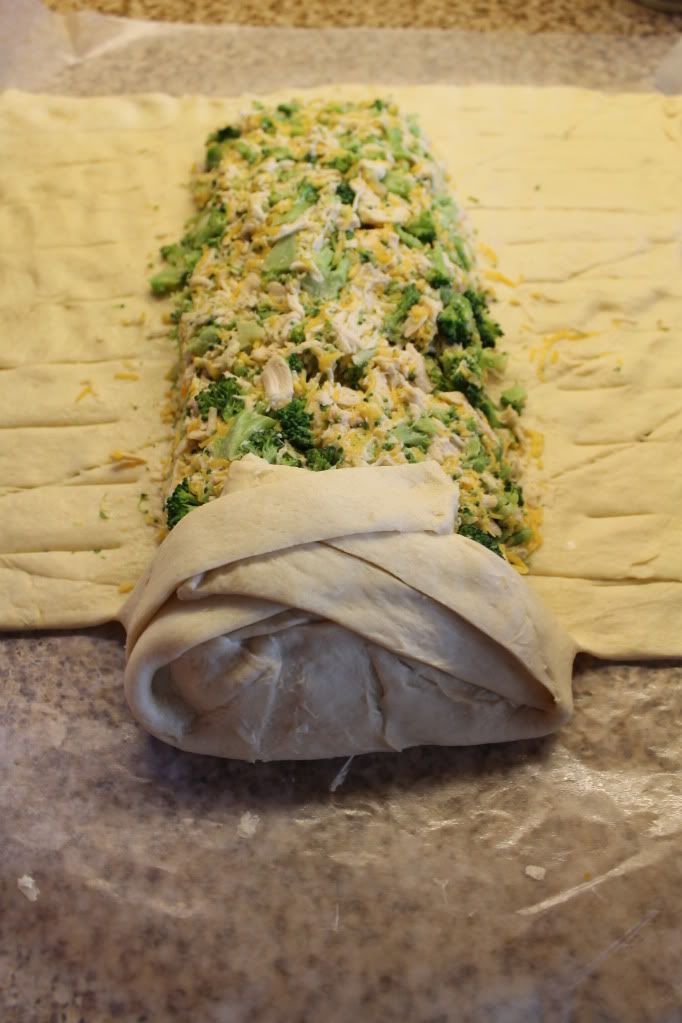 8. Brush the top of the braid with a beaten egg yolk and sprinkle fresh rosemary on top.
9. Transfer to baking sheet and bake for 28 – 30 minutes until golden brown.
This one is a keeper. I'll definitely be making it again!
UPDATE: I just made this again and used pizza dough instead of crescent rolls. Wow! I didn't think this recipe could get any better, but we thought the pizza dough was an even better choice. Just make sure you assemble the braid on parchment paper or foil so you can easily transfer it to the baking sheet after it's assembled. If you try to transfer it from your counter to the baking sheet without anything under it, it's not going to happen. Take my word for it!
Source:
Food Family Finds – Broccoli Cheddar Chicken Braid
  Pin It
Related posts: